Un Prophete Trailer #1: Finally, A Domestic Look At The Festival Favorite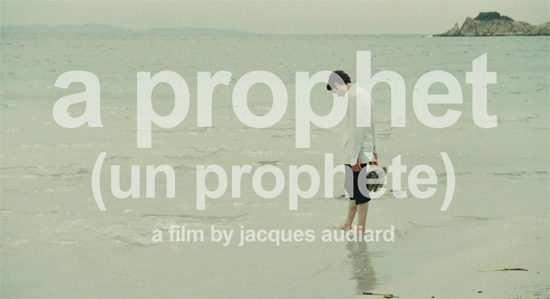 Opening a trailer with a quote comparing the advertised film to The Godfather could be considered the greatest act of hubris in the movie advertising world. Perhaps it's OK when the film in question is Jacques Audiard's A Prophet (Un Prophete), which won the Grand Prix at Cannes this past May, and has been called the favorite film of that festival (not just by the quote shown in the trailer) despite Michael Haneke's The White Ribbon taking the top prize. Since then A Prophet has been frequently heralded as one of the best films of the year.
Sony Pictures Classics picked up the movie for US distribution, and the company has released quite a nice little trailer, which you can see after the break.
There has been a great little wave of exemplary crime movies from Europe in the past few years — the latter two Pusher films and Gomorrah being obvious examples. A Prophet seems to fit right in, with a tale of a young Arab (Tahar Rahim) who while in prison is recruited by a Corsican overlord. Over six years the youngster becomes a crime kingpin in his own right. Audiard has a genre heart, but his film bears quite a bit of grittily realistic style. That and the low-key performance of Rahim seem to be the keys to the film's success.
This is an effective trailer that only heightens my interest in the film. The pullquotes are a bit over the top, but I quite like the balance of energetic and quiet moments that represent the film. There's no attempt to sell the movie as an outright genre picture. You'll probably hear a lot more about this one into the new year, as it is France's submission for the Best Foreign Film Oscar this year.
Here's an embed of the trailer in fairly good quality; see it in HD at Apple.