Details And Covers For Toy Story 1 & 2 On Blu-Ray And The Art Of Toy Story 3 Book... Plus A Tiny Dumbo Tidbit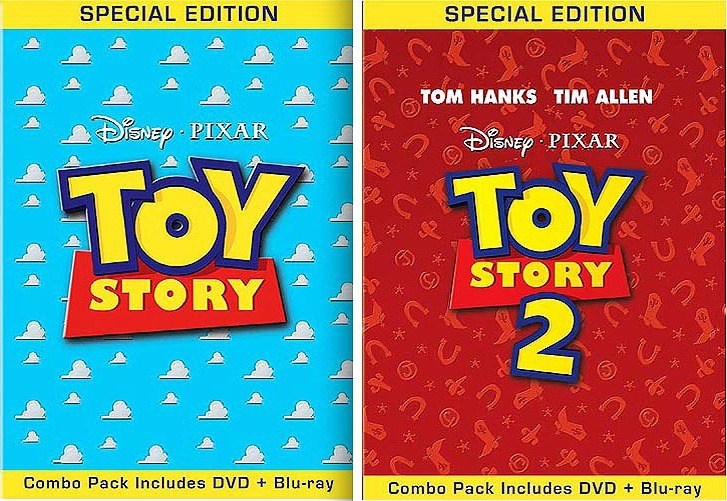 We may receive a commission on purchases made from links.
The first sign of the first two Toy Story films drawing near on Blu-ray was a listing on Danish retailer Laserdisken's site, offering up a March release date. Word about this bubbled about, then pretty soon after I saw that the BBFC had certified the new special features for the Toy Story 2 disc (for some reason, the first film is still outstanding). Next the discs started appearing on the websites of US retailers, as reported by BluRay.com, even including what would appear to be cover art. The release date appears to be set for March 23rd – for now, anyway.
After the break, a list of all known special features on the discs – which includes some Toy Story 3 material – an also a first look at the Art of Toy Story 3 book.
Now, each of the two Toy Story Blu-rays has it's own sneak peak at Toy Story 3. On 1 we will be getting something called The Story, while 2 will come with The Characters.
Here's the rest of the line-up, at least as far as we know so far. Where are the expanded video commentary tracks? Where are the four hour in-depth documentaries? Where are virtual shoulder rubs from beautiful Pixarians?
Toy Story:
Buzz Lightyear Mission Logs: Blast Off
Paths to Pixar: Artists
Studio Stories:
John's Car
Baby AJ
Studio Stories: Scooter Races
Buzz Takes Manhattan
Black Friday: The 'Toy Story' You Never Saw
Toy Story 2:
Buzz Lightyear Mission Logs: International Space Station
Paths to Pixar: Technical Artists
Studio Stories:
'Toy Story 2' Sleep Deprivation Lab
Pinocchio
The Movie Vanishes
Pixar's Zoetrope
Celebrating Our Friend Joe Ranft
BD Live-Portal
You can also see, from the cover art at the head of the post, that each of the BD discs will come with a DVD copy too. A great policy, I think.
If you still haven't spent enough money in pre-ordering those, then maybe you'd also like to reserve a copy of The Art of Toy Story 3 from, say, Amazon. Here's the cover:
Listed as being in this no-doubt gorgeous tome are:
...an extended introduction showcasing the art and story development behind the first two films, a special gatefold of Toy Story 3 color scripts, as well as a gallery of over 250 pieces of concept art. This deluxe volume provides a memorable narrative of the entire Toy Story trilogy.
Where's... my... credit... card...?
Talking of expanded picture-in-picture commentary tracks, my own personal favourite kind of Blu-ray candy, the BBFC have certificated one for Dumbo. Superb.