Tom Cruise, Tom Hanks And Brad Pitt Competing For The Thirteen Women Of Jinling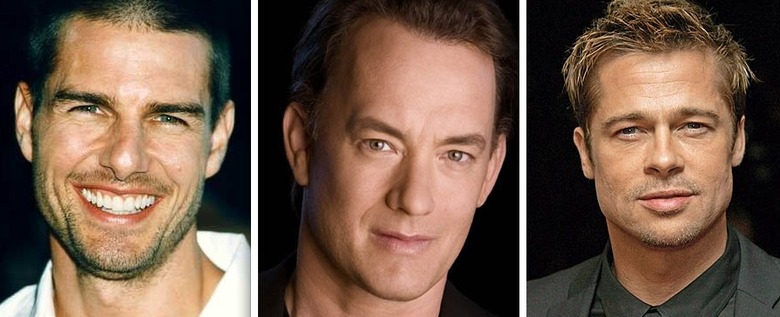 This weekend sees A Noodle Story aka Three Guns, Zhang Yimou's daffy-sounding comedy period movie remake of Blood Simple, hit Chinese cinema screens – if you haven't seen the trailer yet please take a moment to go and bask in its great glowing eccentricity. With that one finally over and out, however, what's next for the director?
Well, it may be Romance Under a Hawthorn Tree or, apparently more likely, it will be The Thirteen Women of Jinling. This one will be a war time drama set during the 1937 Japanese invasion of China and will be focused on the characters of thirteen refugee prostitutes hiding out in a Nanjing church. As well as these very many roles for Chinese actresses, it seems there's going to be a dash of Hollywood too. According to producer Zhang Weiping, the production has so far approached Tom Hanks, Tom Cruise and Brad Pitt, and each of them has already shown their interest.
Don't overestimate the film's total star power just yet, however, as those bonafide Hollywood uberactors wouldn't actually be co-starring, each instead having been solicited in relation to the very same role. It's not really clear quite what the role is, with China.org "helpfully" quoting Zhang Weiping as saying "Maybe it will be that of a Pastor".
Yeah, maybe. I'll take that as a "Yes, a Pastor" for now. Are they just looking to squeeze in a US actor where possible? Or is this Pastor details supposed to be some kind of surprise?
Unsurprisingly for a film that is looking to cast a Hanks, Pitt or Cruise, this film is being priced in excess of $100 million US. In Chinese terms, that's a megabudget and the biggest that Zhang Yimou has ever had to play with. Here's Zhang Weiping's pitch on what we can expect for all those greenbacks:
The film focuses on human nature. We put the story in the background of World War II to display the Chinese struggle and distaste for war and to show our national spirit. It will be a Schindler's List-like epic movie.
Even if they end up casting Rob Schneider* as the pastor I'll be looking forward to this one. I'll keep you updated.
*not really. Or... okay. A bit. But less.