The Black List 2009: The Year's Best Unproduced Screenplays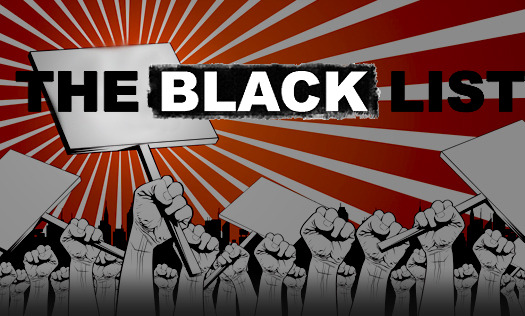 For the last few years, each December has seen the release of The Black List, a compendium of the best unproduced screenplays in Hollywood, as voted by a group of people that range from producer assistants to agency guys to development VPs. The first list, improvised in 2004, caused a furor and now is an event each year.
The 2009 list comes out today, and I'll present the top eleven films out of 97 (there was a tie for #10) below.
For the full list, check out Nikki Finke's post, and keep an eye on the actual Black List website. We're already seeing reactions to this portion on Twitter ("Nick Cave got screwed" is among my favorites so far) and there'll be a lot more as the entire list comes out later today.
I'm disappointed that a couple of high-profile scripts that are already in production (Social Network and Cedar Rapids) own two of these top spots — I know the voting started a while ago, but I'd rather see stuff that needs the Black List bump earn those high spots. There's always a supposition that certain producers and agencies use the list to raise the profile of their own projects, and while this isn't a necessary marketing move for films already in production, I'd prefer that in-production films were simply scratched from the list, even if voted high.
The top ten. Er, eleven:
1. The Muppet Man, by Christopher Weekes "The life and times of the late Jim Henson (pictured), the man behind Sesame Street and The Muppets."
2. The Social Network, by Aaron Sorkin "Chronicles Mark Zuckerberg's complicated journey towards creating Facebook. Sorkin depicts both the founder's motivations for starting the largest social network in the world and the human casualties that came with his profound success."
3. The Voices, by Michael R. Perry "Jerry, a schizophrenic worker at a bathtub factory, accidentally kills an attractive woman from accounting. While trying to cover his bloody tracks, Jerry starts taking advice from his talking (and foul-mouthed) cat and dog."
4. Prisoners, by Aaron Guzikowski "When his young daughter and her best friend vanish on Thanksgiving Day, a Christian survivalist named Keller Dover takes matters into his own hands, imprisoning and torturing a suspect whom the police have set free. But does Dover have the wrong man? And if he does, who really has his little girl?"
5. Cedar Rapids, by Phil Johnston "Tim Lippy is a small-town insurance man who's somehow made it to middle age without having quite done anything. Everything changes when he unexpectedly gets the chance to represent his company at the Cedar Rapids insurance convention, where comedy ensues, of course."
6. Londongrad, by David Scarpa "An adaptation of Alan Cowell's 2008 book The Terminal Spy: A True Story of Espionage, Betrayal and Murder, chronicling the life and strange death of Alexander Litvinenko. Remember in 2006, when that ex-Soviet spy was allegedly poisoned with radioactive tea at a London sushi joint? That's him."
7. L.A.Rex, by Will Beall (based on his novel of the same name) "Rookie LAPD officer Ben Halloran gets partnered with scarred and tobacco-spitting Officer Marquez, and the unlikely team hit the streets of L.A. on the brink of a gang-rivalry explosion. Amid run-ins with the Mexican mafia, brutal gang murders, and corrupt cops, we soon find that Halloran may not be as squeaky clean as his brand new badge."
8. Desperados, by Ellen Rapoport "Wesley Robbins, a 30-something single attorney with an unhealthy obsession with coupling up, thinks she's found the perfect man. But when he doesn't call for days after the first time they sleep together she freaks out and sends him a scathing email, only to learn he's been laid up in a Mexican hospital with some broken bones. On a whim, she and her girlfriends travel down south to erase the email before she ruins what she believes could be her one true love."
9. The Gunslinger, by John Hlavin "When a Texas Ranger is horrifically tortured and killed, his sharp-shooter older brother, Sam Lee Hensley, plots revenge against the mysterious, sadistic leader of a notorious drug cartel. Sam Lee's quest for vengeance will cost him seven years in prison, his right hand and one eye. It will imperil his young nephew and wreak havoc on the lives of those who love him. And it will not bring him peace."
10. (tie) By Way of Helena, by Matt Cook "Set in the south at the turn of the century, Texas Ranger David Kingston and his Mexican bride are sent down to the mysterious town of Helena to investigate the multiple Mexican bodies washing up in the river. What they discover is an idyllic-like town where everything is not as it seems."
10. (tie) The Days Before, by Chad St. John "A man from the future keeps hopping one successive day into the past desperate to stop a vicious race of time-traveling aliens from wiping out humanity."