Details Emerge For Universal's Wizarding World Of Harry Potter Theme Park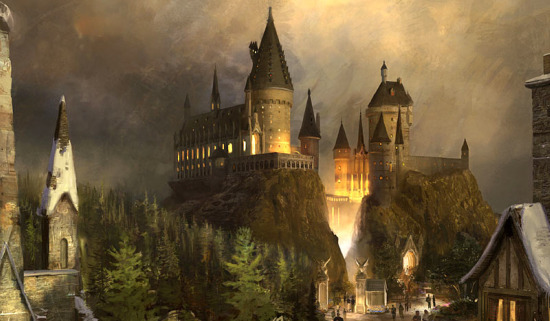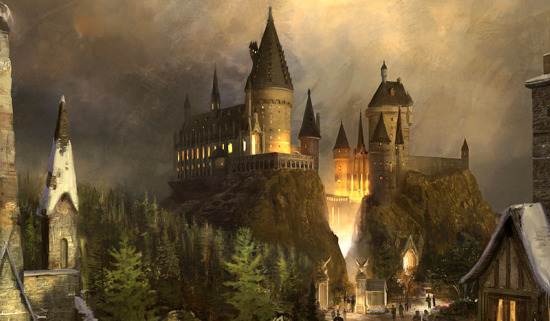 It had to happen eventually. The Wizarding World of Harry Potter will debut next spring at Universal's "Islands of Adventure" park in Orlando, and the recent release of Harry Potter and the Half Blood Prince on DVD and Blu-ray offers a sneak peek at the park's offerings. Attractions Magazine has a full list of the details, and some of the more interesting ones can be found after the break.
You'll be able to buy a butterbeer, which looks just like a real beer with the froth on top, but it'll be non-alcoholic. J.K. Rowling was at a butterbeer tasting and loved it. Steve Jayson, executive chef with Universal Parks and Resorts said, 'The flavor of this is great, real comforting, nice and smooth going down – and you get a mustache.'
The Flight of the Hippogriff ride (family friendly coaster) will center around The Care of Magical Creatures Class. Hagrid will give instructions on how to properly behave and approach a hippogriff. You'll need to keep eye contact, bow and it will bow back. Then you can get on the ride.
Hogwart's Castle will feature the queue to the Harry Potter and the Forbidden Journey ride. The queue will feature a lot of moving portraits and will take you by or through the Defense of the Dark Arts room, the Common Room and the Great Hall.
Basically, the theme park seems like a dream come true for young Potter fans—although I wonder if they'll also cater to the series older fans as well. As is usually the case with these parks, most of the lead actors have filmed extra scenes for the rides. In addition to the sets mentioned above, many areas from the series will be fully recreated at the park—including the Three Broomsticks restaurant, Honeydukes Sweetshop, and Ollivander's Wand Shop.
I'm surprised it took so long to put this park together, but I suppose Universal had to wait until the movies came to a close to arrange all of the details. It's not the sort of thing that I'd be rushing to Orlando for, but I'm sure it'll make many Potter fans out there wet their pants with excitement. (I'm desperately hoping that just applies to the kids.)
You can check out a preview of Half Blood Prince's sneak peek (a preview of a preview, I know) at the park below:
Check out the full list of details over at Attractions Magazine.