Pee-Wee Herman's Big Screen Return Is Scripted And Ready To Shoot (Still)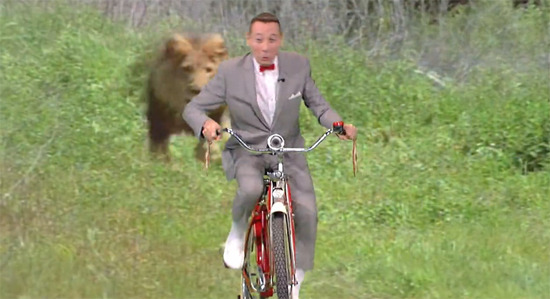 We've known for a while that Pee-Wee Herman wants to star in new films. (When Paul Reubens is in this particular character, it's difficult not to refer to him as Pee-Wee, and I'm not going to fight it.) He's talked about a couple of different scripts in vague terms — one for adults, one for kids — and his plans to bring Pee-Wee's Playhouse to the stage were implication enough that keeping the Playhouse alive was still part of his movie plan. (It's the one for kids.) Now Reubens/Herman has talked about his new script for Pee-Wee's Playhouse: The Movie, which he says is written and ready to go.
Wait, didn't he say that years ago?
Regardless, below you can see a video of Pee-Wee talking to MTV about Playhouse. "It's already done, the script is already fully written; It's ready to shoot," says Pee-Wee . "It's ready to shoot tomorrow. Oh wait, not tomorrow! I'm not available tomorrow. I had a conflict, forgot."
The film would leave the Playhouse, but still take place in a non-'normal' world. "It's not really the real world, it's Puppetland," he says. "On Pee Wee's Playhouse, on the television series, we never left the playhouse, we were always inside the playhouse. The movie is all out of the playhouse. There are two scenes in the playhouse, but the rest is out of the playhouse." Which is exactly the same thing he said over two years ago when he started talking about these projects. Nearly word for word. Which shows what it takes to make it in Hollywood, even if you're known. Plug away, then plug some more.
Don't know how I feel about this. A very evidently older Reubens as Pee-Wee is...weird. A lot more weird than the character ever was. He's more self-aware, less solidly in character. I'm basing that to a certain point on his recent TV and interview appearances, where Reubens shines through a lot more than he ever did in the past. The stage show, which starts in January after being delayed from the original opening date, will be the first big test. If he can keep critical audiences happy there I'll take that as a good sign.
(Watching people interview Pee-Wee is still hilarious. The guy from MTV seems to think he's actually talking to a stupid child.)
Reubens was also in character as Pee-Wee last night on Jimmy Kimmel Live. Hit the link for that episode, or check the two halves out below (while they last). This is a big improvement from his recent Leno appearance, so that's a good sign.