Tron Legacy: New Image And Poster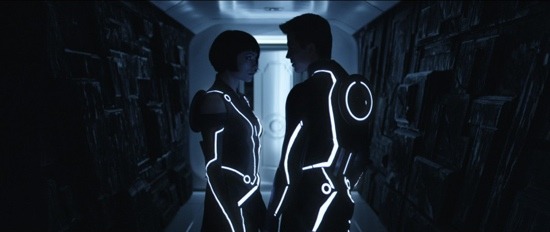 We were just sent along what looks to be the first official still and poster for Disney's upcoming Tron Legacy. Check them out, and read the official synopsis, after the break.
HeyUGuys in the UK got these images from Disney, but the poster is the domestic US one. They don't show off too much, but the poster design is great, and very much in line with the Comic Con teaser clip. I like the austerity here; if this is what we can expect to see, I'm really happy. The original film had a fairly sparse look, and despite the fact that the Comic Con teaser was fairly restrained I've been slightly afraid that in the new film the digital world would be too cluttered. Doesn't look like it based on this.
If you're hungry for more, keep in mind that the new video game will be debuted with a bunch of footage this coming Saturday, December 12. Can we expect to see a trailer this week?
Here's the official synopsis:
TRON: LEGACY is a 3D high-tech adventure set in a digital world that's unlike anything ever captured on the big screen. Sam Flynn (GARRETT HEDLUND), the tech-savvy 27-year-old son of Kevin Flynn (JEFF BRIDGES), looks into his father's disappearance and finds himself pulled into the digital world of Tron where his father has been living for 25 years. Along with Kevin's loyal confidant Quorra (OLIVIA WILDE), father and son embark on a life-and-death journey of escape across a visually-stunning cyber universe that has become far more advanced and exceedingly dangerous.
Here's the an uncropped version of the first still, and underneath it is a version that I lightened up quite a bit so that you can see some of the detail. The poster is beneath them both; click on any of the three images to see larger versions.