Casting Notes: Jonah Hex Reshoots; Sandler And Aniston In Love; Rashida Jones In The Social Network; Andy Daly In Yogi Bear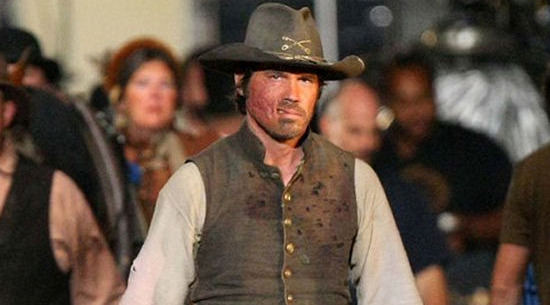 Two weeks of reshoots and/or additional shooting will take place for Jonah Hex at the beginning of the year, and a set of casting call notes has gone out describing the characters involved. There are a few significant ones: Jeb Turnbull, son of John Malkovich's primary villain, and Cassie, Hex's wife. Casting these characters implies that a couple of sequences will be shot that are flashbacks to Hex's past.
Cassie is mentioned but not seen in earlier drafts of the script. One draft I read had an extensive flashback featuring Jeb Turnbull, with a couple of big scenes, so the quick either/or supposition is that either that sequence wasn't shot, or was extensively changed at the time and is now being reworked again. The former seems more likely. President Andrew Johnson is also being cast. That flashback was set in 1862, too early for him to be President (he took office in 1865) so there could be more than just the flashback to shoot. Also, I'm not sure how many drafts of Hex exist after the one I read, so don't think any of this is set in stone. [SpoilerTV]
After the break, news on Adam Sandler and Jennifer Aniston's romcom, Social Network, and some extra Yogi Bear news.
Jennifer Aniston and Adam Sandler are in talks for Pretend Wife, a romantic comedy once called Holiday in Hawaii. Plot isn't being revealed at the moment, but the script is by Allan Loeb and Tim Dowling and Dennis Dugan (You Don't Mess with the Zohan, I Now Pronounce You Chuck and Larry) is the leading choice for director at the moment. [THR]Rashida Jones has joined David Fincher's Social Network, the story of the guys behind Facebook, which is shooting now. We don't know her role, but there's speculation that she'll be the attorney for Mark Zuckerberg, played by Jesse Eisenberg. Jones is fantastic, so I'm looking forward to seeing her under Fincher's direction. [Variety]
Finally, Andy Daly will appear in Yogi Bear, which is shooting now in New Zealand. I'd be in a talking bear movie alongside Anna Faris, Dan Aykroyd, Justin Timberlake and Tom Cavanaugh, too, if it meant a free trip down there. (Who am I kidding? I'd be in a talking bear movie for free.) Daly will be Mayor Brown, who has frivolously run his city's budget into the red and wants to sell Jelly Stone Park to make some cash. [Variety]