Kevin Smith's A Couple Of Dicks Gets A New Title; First Trailer This Christmas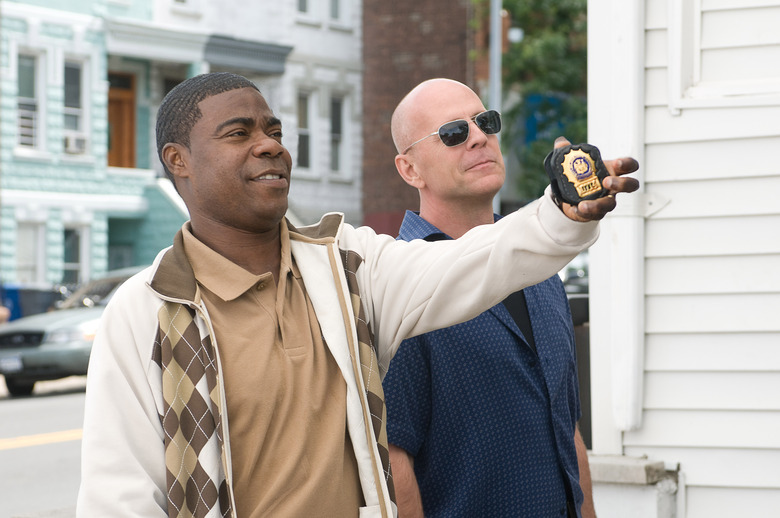 Kevin Smith's buddy cop comedy A Couple of Dicks finally has a new title. As you probably know by now, since the start, Warner Bros has been pushing to re-title the film so that they could more easily market the film in all areas. The working title for the film was A Couple of Cops, which I personally thought was horribly uncreative, and completely lacking of the double entendre that made the original title so interesting and funny.So what is the new title? Well... we just don't know what it is yet. Here is the announcement from Kevin Smith:
The Movie Formerly Known as A COUPLE OF DICKS has finally settled on a (network-policy-dictated) replacement title! While we'll always have DICKS in our hearts, the title we just now locked makes me smile on a bunch of different levels – including this 1: we can now advertise our movie properly (& ironically). And said marketing begins... on every print of SHERLOCK HOLMES, Christmas Day!
The fact that Kevin points out that the new title is ironic gives me hope that they have found something a lot more clever than "A Couple of Cops." But you're probably wondering, why can't Smith announce the title of his own movie? The filmmaker responded to fans on Twitter, noting that "that kinda thing's above my pay-grade, sir. WB will announce in a day or two" and later stating that Dicks is "Not MY movie; a movie I was hired to direct." As Kevin said, I'm sure we'll hear a title in a couple days.