Youth In Revolt Red Band Trailer: One More Time, With Cursing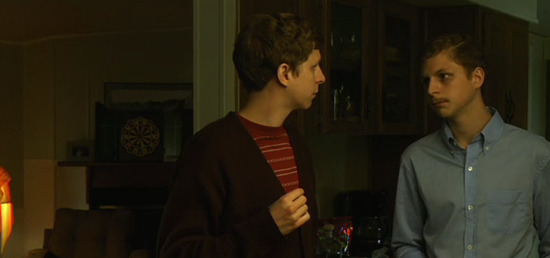 We've seen two trailers for Youth in Revolt, and with a month left before the film finally opens (it was delayed from a fall open) we've now got a red band trailer. This clip follows much the same structure as the second trailer, only with a lot more dirty dialogue. That's not a bad thing, necessarily, as it's funny stuff. Check it out after the break.
The primary drawback to this trailer is that it makes it sound a lot more like Superbad, but perhaps that's exactly the point. On one hand, the film has garnered some praise on the basis of Michael Cera's performance, which has been said to expand upon his now-typical screen persona. So you'd think that Dimension and the Weinsteins would be eager to emphasize that this is a different Cera than we've seen previously. On the other hand, cash is always good and the fallback tactic for selling any movie is to make it look like a similar, successful one.
Maybe this trailer will successfully sell both ends against the middle. You've got Cera's mean, alternate Francois persona on display, and a lot of crude but palatable humor. You tell me — how does this one fly? Without having seen the film, I think I prefer the last trailer. (Though Peter had gripes about the voice over and use of music, which suggests that both elements are handled better in the full feature.)
The film hits theatres on January 8th. Miguel Arteta directs from a Gustin Nash screenplay based on C.D. Payne's novel. Alongside Cera are Portia Doubleday, Steve Buscemi, Ray Liotta, Justin Long, Jean Smart, Ari Graynor, Fred Willard, Zach Galifianakis, Mary Kay Place and Rooney Mara. It's a fantastic cast; I'm curious based on that alone.