This Week In DVD & Blu-Ray: Harry Potter And The Half-Blood Prince, Public Enemies, Lost (Season 5), And More
We may receive a commission on purchases made from links.
This Week in DVD & Blu-ray is a column that compiles all the latest info regarding new DVD and Blu-ray releases, sales, and exclusive deals from stores including Target, Best Buy and Fry's.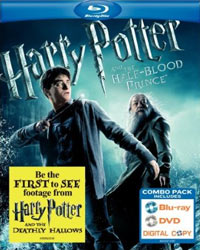 HARRY POTTER AND THE HALF-BLOOD PRINCE
(DVD available as single-disc and 2-Disc Digital Copy Special Edition)
The Harry Potter franchise has marked a rare occasion in cinema, or perhaps even a first. To my knowledge, there is no other long-running, self-contained film series in history where the later entries have improved considerably on their predecessors. As the young Harry Potter has matured, so too have the films depicting his wizarding adventures, turning what initially began as a family friendly adaptation of, essentially, fluff wish-fulfillment silliness, into an artistically rendered journey of kids attempting to balance their growth into adults against the never-ending onslaught of horrors that plague their lives. Cuaron's Prisoner of Azkaban may remain the champion when it comes to telling the best Potter story that stands on its own, but considering that The Half-Blood Prince is clearly an intermediate chapter that was designed to align the necessary pieces for the final chapter, director David Yates should be applauded for the masterful way he's managed to sidestep that issue by maintaining a strong focus on progressing the emotional core of the story instead of becoming bogged down in the notably less compelling central plot conflict, as well as gratuitous CGI-heavy action set pieces and wand battles. It's because of this that, against all odds, Harry Potter and the Half-Blood Prince turned out to be my favorite entry in the series yet, delivering a strangely perfect blend of character-based melodrama, genuinely hilarious moments of comedy, and a palpable sense of dread in every frame. If I wasn't quite convinced that Yates was capable of tying up the films in a satisfying way after Order of the Phoenix, this most recent effort has convinced me that there's no other man more qualified for the job.
Blu-ray? Yes.
Notable Extras: 2-disc DVD – Featurettes on the cast and crew and the life of author J.K. Rowling, additional scenes, a sneak peek at the Universal Orlando Resort's The Wizarding World of Harry Potter theme park, and a digital copy of the film. Blu-ray – Includes everything on the DVD, as well as a Maximum Movie Mode with the stars, director and producers.
*Does not include 2-Disc Edition, which costs $19.99 at Fry's and Amazon, $22.99 at Best Buy, and $26.99 at Target (see below).
EXCLUSIVE DEAL:
What? Exclusive Blu-ray Death Eater Mask Packaging ($33.99).
Where? Best Buy.
EXCLUSIVE DEAL:
What? Exclusive deluxe edition ($26.99) includes collectible lenticular case, 2-disc DVD with digital copy and more.
Where? Target.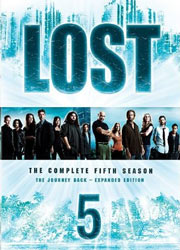 LOST (SEASON 5)
We need only wait until May of 2010 to find out if it was all worth it. That's the month that Lost finally comes to an end, and the loyal fans of the show will hopefully be given some sense of closure as to what the hell this series is really all about. For many though—including myself—the journey thus far has already justified the show's enigmatic storyline. It's had its ups-and-downs, to be sure, but neither that nor the laundry list of WTF-riddled mysteries that may never yield satisfactory answers are enough to negate the thoroughly compelling nature of the show. Season 5 is no exception, implementing the use of time travel to facilitate the show's transition from its traditional use of flashbacks/flashforwards. Even if certain elements of the past timeline interconnecting with the previous seasons were not planned out as well as they could have been, it's a change that added a much welcome novelty to the season. How much relevance Season 5 will have to the overall storyline of the show has yet to be seen, but if my theory about the final season has even an inkling of truth to it, it seems the show's creators have found a brilliant way of bringing the series full circle. February 2, 2010 cannot come soon enough.
Blu-ray? Yes.
Notable Extras: DVD – 2 audio commentaries, 7 "LOST on Location" featurettes, Building 23 & Beyond With Michael Emerson, An Epic Day With Richard Alpert, Making up for LOST Time, Mysteries Of The Universe: The DHARMA Initiative, bloopers, and deleted scenes. Blu-ray – Includes everything on the DVD, as well as BD-Live access to LOST University, and a LOST 100 featurette (in which the cast reflects on the first 100 episodes).
EXCLUSIVE DEAL:
What? DVD and Blu-ray come with exclusive bonus disc, packaging and Dharma luggage tag. Bonus disc includes additional scenes and content including LOST on location: This Place is Death – an inside look at a landmark episode and return of the smoke monster.
Where? Best Buy.
EXCLUSIVE DEAL:
What? Buy Lost (Season 5) on DVD and save $15 on previous seasons, or: Buy Lost (Season 5) on Blu-ray and save $25 on previous seasons.
Where? Fry's.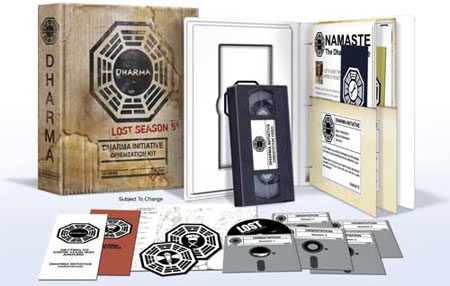 ALSO AVAILABLE:
Lost (Season 5): Dharma Initiative Orientation Kit, on DVD ($74.99) or Blu-ray ($84.99). Includes exclusive packaging, pamphlets, stickers, maps, a VHS of the Orientation Video, and recruitment materials for the Dharma Initiative.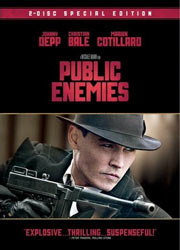 PUBLIC ENEMIES
(DVD available as single-disc and 2-Disc Special Edition)
Bring together as many talented names as Public Enemies has to offer, and anything less than greatness guarantees disappointment. It's for this reason that I feel little joy in claiming that Public Enemies is a pretty good gangster picture, and nothing more. The most distinguished element of the film is Mann's use of HD digital video, which, combined with the deliberately rough sound design, provides an immersive, naturalistic aesthetic that paints the '30s in a light unlike anything we've ever seen in cinema. The shootouts are especially impressive, with each gunshot being given a forceful heft that puts you right in the moment as the cops and robbers engage in an intensely chaotic scramble for survival. From a technical standpoint, the film is a complete success; it's the story where the film falters. The biggest problem is simple, and one that has nothing to do with the efforts of the cast or crew: from a cinematic standpoint, John Dillinger's life just isn't that compelling. We've seen this type of story done many times before, and those films weren't restricted by the boundaries of real life events. Dillinger is a man defined by his legacy and criminal activity, not by how complex and interesting of a person he was. This becomes all too clear while watching Public Enemies, making it a struggle to connect to the film on any sort of a dramatic level. Regardless of whether or not you're familiar with the guy, the trajectory of this tale is one that's completely free of surprises, rendering much of the film a straightforward, predictable bore.
Blu-ray? Yes.
Notable Extras: Single-disc DVD – Audio commentary with director Michael Mann, and a Larger Than Life: Adversaries featurette. 2-disc DVD & Blu-ray – Includes everything on the single-disc DVD, as well as 5 featurettes ("Michael Mann: Making Public Enemies", "On Dilliger's Trail: The Real Locations", "Larger Than Life: Adversaries", "Criminal Technology", "Last of the Legendary Outlaws"), and a digital copy of the film.
*Does not include 2-Disc Edition, which costs $19.77 at Fry's, and $22.99 at Target, Best Buy and Amazon.
EXCLUSIVE DEAL:
What? 2-Disc DVD and Blu-ray includes the making of Public Enemies with exclusive behind-the-scenes footage and background of the man who became Public Enemy Number One.
Where? Best Buy.
EXCLUSIVE DEAL:
What? 2-Disc DVD and Blu-ray each include exclusive production notes.
Where? Target.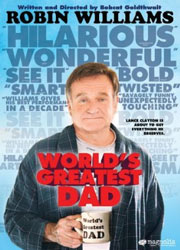 WORLD'S GREATEST DAD
It's nearly impossible to discuss what makes World's Greatest Dad the near genius slice of perverse, bleakly honest dark—and I do mean dark—comedy that it is without surprising its many twists and turns. The trailer does a fare job of conveying what to expect from the film in terms of tone and dialogue without spoiling any of the shocking plot details—while still adhering to the greenband trailer limitations, of course—so I'd recommend any hesitant viewers to check it out before dismissing one of the year's most unexpected gems. But with much of its impact coming from the unexpected way the story unfolds, it's not something that I see necessitating too many repeat viewings.
Blu-ray? Yes.
Notable Extras: DVD & Blu-ray – Audio commentary, a behind the scenes featurette, a HDNet: A Look At World's Greatest Dad featurette, deleted scenes, outtakes, and a music video.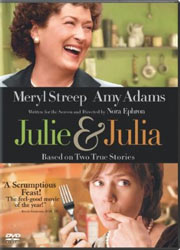 JULIE & JULIA
Not even Amy Adams. Not even Meryl Streep. Not even a 75% rating on Rotten Tomatoes. None of those things can make me want to see a Nora Ephron-directed movie about cooking.
Blu-ray? Yes.
Notable Extras: DVD – Audio commentary with writer/director Nora Ephron, and a Secret Ingredients: Creating Julie & Julia featurette. Blu-ray – Includes everything on the DVD, as well as 7 additional features ("Family & Friends Remember Julia Child", "Julia's Kitchen", "Poaching Eggs with Julia Child & Jacques Pépin", "Making Hollandaise Sauce with Julia Child & Jacques Pépin", "Mark Peel prepares Scrambled Eggs", "Suzanne Goin prepares Braised Beef Short Ribs", "Steven Lewandowski & Drew Nieporent Prepare Butter Poached Maine Lobster").
EXCLUSIVE DEAL:
What? Exclusive 2-Disc Deluxe Edition ($22.99) release, includes a 90-minute featurette, "Julia Child's Kitchen Wisdom."
Where? Target.
EXCLUSIVE DEAL:
What? Free book on pack: Julie & Julia: My Year of Cooking Dangerously when you buy the DVD.
Where? Best Buy.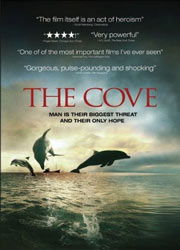 THE COVE
I tend to veer away from critiquing politically-charged documentaries like this on the site; not for lack of interest, but because their primary focus is on informing an audience of the matter at hand, and less about the art of filmmaking/storytelling. From the sounds of it though, The Cove deftly balances both, operating as much as a thriller as an educational experience. The main thing I'm curious to find out though, is if the film—which exposes the abuse of dolphins in Japan–prevents a convincing argument for why dolphins deserve special treatment over the many other ruthlessly slaughtered animals on the planet.
Blu-ray? No.
Notable Extras: An audio commentary with director Louie Psihoyos and producer Fisher Stevens, a mini documentary entitled The Cove: Mercury Rising, behind-the-scenes footage of the covert gear used to capture the activities in The Cove (featuring the Nest Cam, Thermal Cam, Rock Cams, Helicopter Cam, and Blood Cam), and deleted and extended scenes.
Other noteworthy DVD (and Blu-ray) releases this week...
The Marc Pease Experience – Humble Pie – AK 100: 25 Films of Akira Kurosawa (Criterion Collection) – Rescue Me (Season 5, Vol. 2) – Harry Potter and the Sorcerer's Stone (Ultimate Edition) [DVD / Blu-ray] – Harry Potter and the Chamber of Secrets (Ultimate Edition) [DVD / Blu-ray] – Harry Potter Years 1-6 Giftset [DVD / Blu-ray]

NOTE: Some deals may be in-store only.

$16.99 – Flight of the Conchords (Season 1 or 2)
$18.99 – It's Always Sunny in Philadelphia (Season 4)
$24.99 – 30 Rock (Season 3)
$26.99 – Fringe (Season 1), The Office (Season 5)

$149.99 – The Sopranos (Complete Series)
$99.99 – The Wire (Complete Series), Seinfeld (Complete Series)
$21.99 – Blu-ray sale: Mad Men (Season 2)