Rumor: Zombieland Writers To Take On Deadpool? Plus, Ryan Reynolds Dreams Of Tarantino Directing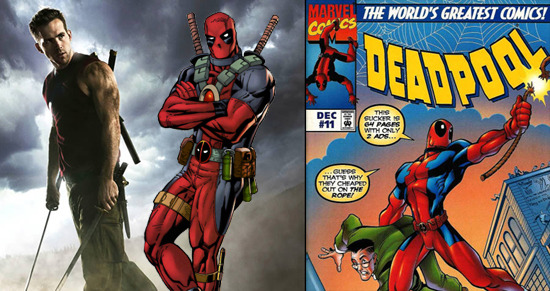 As much as I wanted to love Wolverine, I couldn't get past the horrible dialog, plot, and misuse of iconic Marvel characters. They couldn't even get Wolverine's claws right—and it's not like they haven't had several other films to perfect such a simple effect. Needless to say, my enthusiasm for the upcoming Deadpool film has been fairly tepid thus far. Now Chud is running an interesting rumor that, if true, could actually make me hopeful for a Deadpool film. Apparently, Fox may be looking to hire the writers of this summer's Zombieland, Rhett Reese and Paul Wernick, for the film.
The writing duo, who have worked together on television projects like The Joe Schmo Show and Invasion Iowa, are pretty much a perfect fit for the wise-cracking character. They're certainly a better pair than Wolverine's David Benioff (a legitimately good writer, having written both the novel and screenplay 25th Hour) and Skip Woods (Swordfish, Hitman). Woods was brought on to "touch up" Benioff's original script after being impressed by his Hitman work (seriously?)—which was probably the first of many bad decisions by Fox when it came to Wolverine.
Zombieland was definitely one of the most fun experiences I've had at theaters this year, and I think Deadpool film with a similarly light tone could work very well.
Although Hugh Jackman's enthusiasm for Logan didn't help Wolverine much, we can still take some solace in knowing that Ryan Reynolds seems to have a real love for the character. He's mentioned in the past that Deadpool will break the fourth wall in the film,  a trend lifted from the comics. While it could just end up being distracting and gimicky, it could also be a fun way to help differentiate the film and its title character from the onslaught of other comic characters hitting movie screens.
Reynolds also recently talked about his dream director for the film, a little known director named Quentin Tarantino. Speaking to MTV, Reynolds mentioned the following:
You think directors for a movie like this and you immediately picture [Quentin] Tarantino or somebody like that."Obviously Tarantino is a guy that likes to direct his own material, so there's a good chance he wouldn't be the guy. We all have our lists of dream directors.
While I'm sure most people would love to have Tarantino on board for their starring projects, Deadpool isn't something he'd likely do anytime soon. Like Reynolds mentioned, Tarantino has expressed reservations in the past about adapting other people's material (in reference to Jackie Brown).
Discuss: Do you think the Zombieland writers are a good fit for Deadpool? Are you excited for Deadpool at all?