Producers Put 2007 Black List Comedy Pictures Of You And Jay Baruchel's Goon Into Play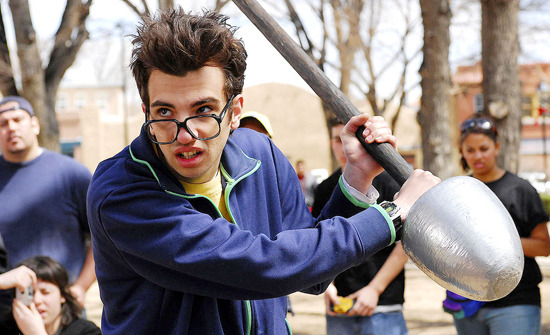 Dave Gross and Jesse Shapira are busy. They're teaming with Youth in Revolt producer David Permut to make Pictures of You, the Joshua Friedlander script that was on the 2007 Black List. The teen-oriented romantic comedy will complement another funny picture Gross and Shapira have in the works: Goon, a hockey comedy written by Jay Baruchel and Superbad's Evan Goldberg.Variety reports on Pictures of You, saying that the film is set in a Florida seaside town and follows "a teenage boy who finds a lost camera on the beach. After developing the film, he ends up on a quest to find the girl of his dreams, whose picture was discovered inside the camera." Whimsical! Play this one in a double-feature with Amanda Seyfried's Letters to Juliet.
Meanwhile, a mention at the bottom of the same trade report says that Gross and Shapira are also working on Goon, written by Jay Baruchel and Evan Goldberg. That one starts production in April 2010. This marks Goldberg's first screenwriting credit without Seth Rogen, though the collaboration seems to have grown out of their work with Rogen on the short Jay and Seth vs. the Apocalypse, which has been talked up as a vaguely possible feature film.
Goon is a hockey comedy set in Canada, and Baruchel previously said "We're putting the cast together [for 'Goon'] as I speak. I'm not going to screw myself and say who but I'll say that needless to say they're famous." Kevin Smith has talked up his own hockey film (Hit Somebody, based on the song by Warren Zevon) but sounds like this one will be ready to go first, possibly mooting his.
Note that Goon has no relation to The Goon, which is the David Fincher-produced animated adaptation of Eric Powell's comic book of the same name.