The Nutcracker, In Action Movie Form: Like A Simpsons Parody Come To Life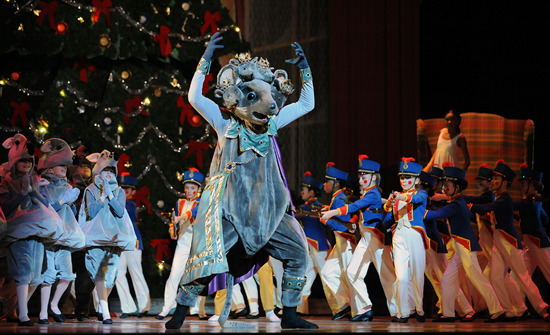 If I were Jon Stewart this would be the time to cackle, "here it is: your moment of zen." New Line has bought a pitch from Jack the Giant-Killer writer Darren Lemke that would re-cast the tale of The Nutcracker and the Mouse King as an action movie. Friggin' seriously?
THR reports the deal, and doesn't give any indication if this is intended for particular talent, whether acting or directorial. It's nothing more than a pitch right now. My first impression is: hope it stays that way. I feel like I've gone out to the movies with the Simpsons, and alongside all the crappy inevitable action movie sequels on the marquee is the version of the Nutcracker starring Bruce Willis as the mouse king. At least that would be casting against type.
The Nutcracker ballet by Pyotr Ilyich Tchaikovsky is one of the most popular ballets in the world, and is a holiday staple. (Nice timing on the pitch, Mr. Lemke.) The ballet simplifies the E.T.A. Hoffmann tale The Nutcracker and the Mouse King. In the original story, a young girl is fascinated with a nucracker she believes her inventive godfather created. On Christmas Eve, the girl's young brother accidentally breaks the nutcracker's jaw, and she repairs it. Later that night she sees her room invaded by a host of mice, led by their seven-headed king, and is drawn into a strange and fantastic family squabble between the King and Queen of Mice and the King's daughter, the Princess Pirlipat.
Or, as THR summarizes in a manner that seems more consistent with the action movie pitch, "the girl began an adventure that included a war involving a seven-headed Mouse King and his army of mice, curses and themes of ugliness and beauty."
I know one thing I want for Christmas: don't make this movie.