New Kick-Ass Poster: Red Mist Revealed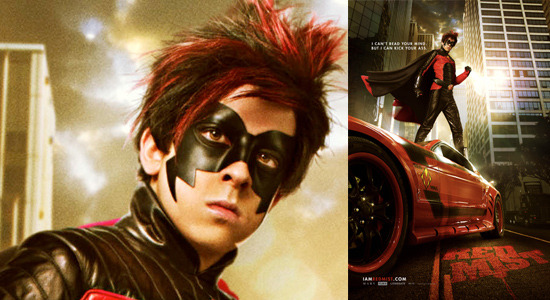 AICN has a new character poster for Matthew Vaughn's big screen adaptation of Kick-Ass, featuring Christopher Mintz-Plasse as Red Mist. I'm really not digging the poster art. It looks like Lionsgate is trying way to hard to make it look cool, when it would be better if they could sell the film based on the insane violence. It worries me a bit that Lionsgate clearly doesn't understand the reasons people want to see this movie. Selling the wish-fulfillment superhero aspect to children/teens seems counterproductive. Click on over to AICN to the the poster in high resolution.
A twisted, funny, high-octane adventure, director Matthew Vaughn brings KICK-ASS to the big screen.
KICK-ASS tells the story of average teenager Dave Lizewski (Aaron Johnson), a comic-book fanboy who decides to take his obsession as inspiration to become a real-life superhero. As any good superhero would, he chooses a new name — Kick-Ass — assembles a suit and mask to wear, and gets to work fighting crime. There's only one problem standing in his way: Kick-Ass has absolutely no superpowers.
His life is forever changed as he inspires a subculture of copy cats, meets up with a pair of crazed vigilantes — including an 11-year-old sword-wielding dynamo, Hit Girl (Chloë Moretz) and her father, Big Daddy (Nicolas Cage) — and forges a friendship with another fledgling superhero, Red Mist (Christopher Mintz-Plasse). But thanks to the scheming of a local mob boss Frank D'Amico (Mark Strong), that new alliance will be put to the test.
KICK-ASS hits theaters April 16, 2010!