Spielberg Leaves Harvey Remake, No Clear Plans For Next Project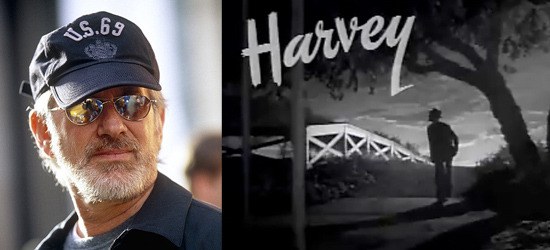 Back in August, we learned that Steven Spielberg had decided to remake the Jimmy Stewart classic, Harvey. We've heard little else about the film since then, aside from the fact that Tom Hanks didn't want the lead role, and today it appears that we won't be hearing much else for some time. Spielberg has apparently left the project after creative disputes with his latest potential lead, Robert Downey Jr.
Fox will continue work on the project, and they my try convincing Spielberg and Downey to jump back on at some point. If nothing happens with it though, I won't be shedding any tears.
The big question now is what Spielberg may be up to next. His Tintin shooting is complete, and he's certainly not lacking in producing gigs, but his directing future is uncertain. Back in September, he confirmed that his Lincoln project will definitely happen, and now he may actually have the free time to devote to it.
And let's not forget that juicy Jonathan Nolan-scripted sci-fi film, Interstellar, that Spielberg was attached to a few years ago. It was never clear if he was going to direct that, but the prospect of a Spielberg-directed sci-fi film that involved wormhole travel, and alternate dimensions, already has me sort of foaming at the mouth.
Right now we don't know anything for certain, except that it's a very exciting time to be a Spielberg fan.
[Source: Variety]