Comcast Buys NBC Universal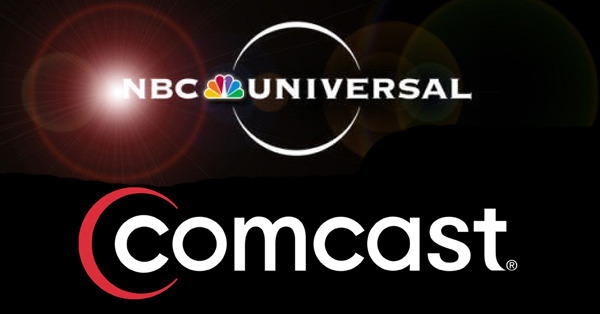 For weeks, there have been big rumblings about a potential buyout of NBC Universal by the cable company you love to hate: Comcast. A deal was consummated today, though it remains pending regulatory approval.
The deal is ridiculously convoluted. Appropriately, perhaps, it's the sort of thing you'd expect to hear Jack Donaghy and Devon Banks arguing out on 30 Rock. The basics are as follows: NBC Universal is currently owned by  General Electric and Vivendi in an 80/20 split. NBCU will borrow $9.1b with which GE can buy out Vivendi, and Comcast will enter with a $6.5b cash offer and $7.25b worth of programming assets. The breakdown after the deal will be that Comcast owns 51% of the conglomerate while GE holds 49%.
The resulting business, which may operate under the name Comcast Entertainment Group, will be a massive entertainment conglomerate. Congress is already planning hearings to determine whether the deal will give Comcast "undue advantages" based on new access to NBC Universal programming.
So what does this mean to you? Outside of a theoretical change in film release windows — i.e. the length of time between when a film bows in theatres and appears On Demand and on DVD — probably not much.
In the short term, little is likely to change. The deal won't even go through for another year, assuming that it passes intact through regulatory commissions and Congress. (Though Congress doesn't seem to care about trade collusion and monopoly prevention any more, so expect a thumbs-up from committees there.)
From the press release, there's a key point to consider:
The assets and properties owned or controlled by the new joint venture will include some of the best known brands in the entertainment industry, including:Universal Pictures, which has produced Academy Award winners Atonement, The Bourne Ultimatum, Brokeback Mountain, Rayand A Beautiful Mind, Focus Features, which recently produced Away We Go, and an extensive movie library with more than 4,000 titles through Universal Studios Home Entertainment.
At this point Universal, as a movie studio, will represent a small portion of the conglomerate's cash flow compared to NBC's cable and broadcast division. Chances that this will have any sort of noticeable short-term effect on the studio are slight. There's a slight possibility that we'll see some exec shuffling, though after the year the studio has had, that wouldn't shock. More likely is that we'll see different presentations of Universal properties — the sort of programming advantage that Congress is nominally worried about.
But the big concern in Hollywood right now is release windows. As Peter Bart mentions, Comcast has argued for shorter release windows — essentially moving towards having films available on cable and in theatres at the same time. But this isn't exclusive to this deal; there are new release window experiments already going on with HDNet and other VOD offerings. We'll likely see a lot more experimenting on the NBC Universal side, and if one model really seems to work we could see it adopted more quickly than would otherwise have been the case under an old-school studio business model.