Lost Underground Art Show On December 15th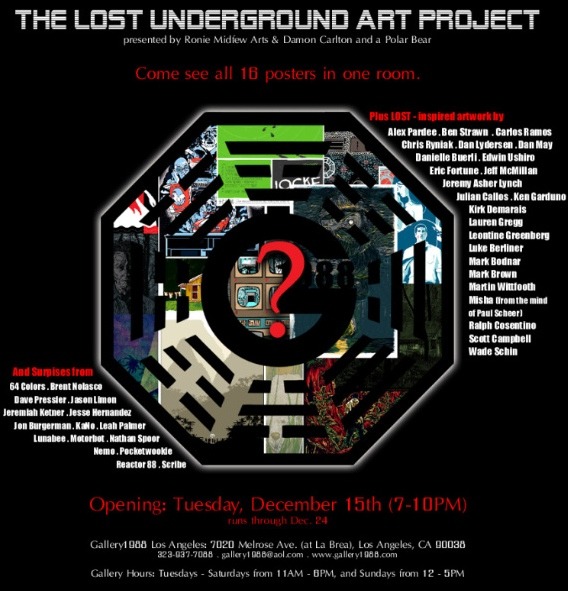 Ronie Midfew Arts and DamonCarltonAndAPolarBear.com are proud to announce the LOST Underground Art Project, an art show at Gallery1988: LA celebrating one of the greatest television programs of all-time. This event, opening December 15th 2009 from 7-10 PM will mark the first time that all 16 prints, released and SOLD OUT over the past 3 months at DamonCarltonAndAPolarBear.com, will be seen in one room. In addition to the prints, over 20 artists will be creating original LOST-inspired paintings and sculptures (all available for purchase) to commemorate the event. These artists include:
Alex Pardee – Ben Strawn – Carlos Ramos – Chris Ryniak – Dan Lydersen – Dan May – Danielle Buerli – Edwin Ushiro – Eric Fortune – Jeff McMillan – Jeremy Asher Lynch – Julian Callos – Ken Garduno – Kirk Demarais – Lauren Gregg – Leontine Greenberg – Luke Berliner – Mark Bodnar – Mark Brown – Martin Wittfooth – Misha (from the mind of Paul Scheer) – Ralph Cosentino – Scott Campbell – Wade Schin – 64 Colors – Brent Nolasco – Dave Pressler – Jason Limon – Jeremiah Ketner – Jesse Hernandez – Jon Burgerman – KaNo – Leah Palmer – Lunabee – Motorbot – Nathan Spoor – Nemo – Pocketwookie – Reactor 88 – Scribe
This night will also have some surprises, and I've been told you might want to line up early for this one. Watch an announcement video from comedian/Lost-inspired velvet painter Paul Scheer, after the jump.