Concept Art For Time Travel Thriller Timeless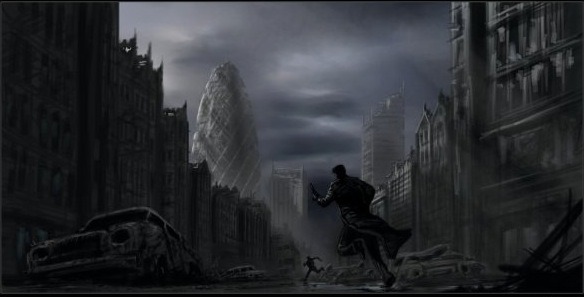 I've been excited to hear more about Michael Bartlett's (The Zombie Diaries) upcoming time travel film, Timeless, ever since reading Quiet Earth's script review a few months ago. The script seemed to have a lot of promise,  and it was also hinted that the film had a very unique approach to time travel—always a plus with me. Now the film's official website has launched (which will be updated soon with more info), and we have some production art for the film courtesy of Quiet Earth.
Set in a bleak and dystopian future, Timeless tells the story of a hit-man named Warren who has been taken under the wing of a ruthless business man, Sloane. Warren's world changes forever when Sloane forces him to break one of his crucial rules. He soon finds himself plunged into a world where all is not what it seems.
When he suddenly has the power to travel back in time, Warren tries to right the wrongs of the past, but soon faces a terrible conundrum. Is he truly traveling in time, or is he simply losing his mind?
Timeless is a powerful story of lost love, redemption and one man's addiction to saving his soul-mate ... from himself.
It seems to be a dystopic version of the great NBC series Journeyman (which itself was heavily inspired by The Time Travelers Wife), except with hit men and more action. Needless to say,  this is definitely something I can get behind. The film is still in casting and development, but we do know that the lead will be portrayed by Robert Krazinsky (EastEnders).
In the concept art we see darkly stylistic renditions of a dystopic London. It's nothing altogether special, but it gives us an idea of the tone Bartlett is going for with the film.