Frankenweenie Character And Plot Details Show Differences Between Short Film And Feature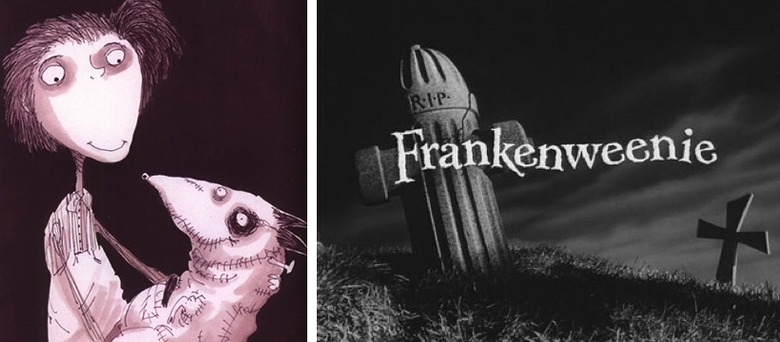 Casting has started for the voice cast of Tim Burton's upcoming stop-motion feature Frankenweenie, being adapted from his rather winning live-action short film. From the break down of characters, and the descriptions of some of their actions, it is becoming clear just how the redo will break away from the storyline of the original.
Seeing as some of this is potentially light-ish spoiler material, I'll hide it after the break. What isn't sensitive information is the news that these characters are all children aged between 8 and 11. I'm sure the screenplay is more specific than this, but it is interesting to note the absence of adult roles. It's likely that this is because the adults will be cast with Burton stalwarts and Casting Director recommendations, not respondents to open casting calls. The lead role of Victor, also a child, has been left off of the list too – which starkid voice do you think they might go for?
Much love to Bloody Disgusting's Mr. Disgusting himself for copy typing all of these details from a fax he received.
[EDGAR] A Caucasian Male 8-11 years old. Edgar is a needy little kid who wants desperately to be accepted by the cool kids in his class. Naturally a little nerdy, he gravitates to Victor and basically annoys him until he agrees to let him be his lab partner. He is more than a little gullible and is easily tricked into giving away Victor's precious secret and unwittingly starting the whole mess with the other monsters.
[TOSHIAKI] A Japanese Male 8-11 years old. Toshiaki is the natural leader of the cool kids in Victor's class. He is a good athlete, and an avid little league baseball player but Toshiaki has a mischievous side. He is the one that ultimately manipulates E into giving up the secret of Sparky and it is his idea to turn the other animals into monsters. He is Japanese and his monster creation is a little Godzilla lizard.
[BOB] A Caucasian Male 8-11 years old. Bob is the dumb, jockey kid. He has more brawn than brains. He follows Toshiaki and Nassor around even when it means that he has to be the one to test the home made jet pack that Toshiaki has created.
[NASSOR] A Middle-Eastern Male 8-11 years old. Nassor is the star of the little league team and just goes along with Toshiak's plan. He is a bit more serious than the others but still doesn't see the impending chaos when he chooses to bring his hamster mummy back to life.
[WEIRD GIRL] A Caucasian Female 8-11 years old. She has a very dark and ominous take on even the most mundane occurrences and jumps at the chance to bring some dead animals back to life.
[ELSA] A Caucasian Female 8-11 years old. Elsa is a sweet girl who likes to follow the rules and not cause too much trouble. A bit of a "goody two shoes," she is not afraid to speak up and even corrects the teacher when he makes a mistake. She is excited about the festivities planned for the town's Dutch Day parade and even has a solo dance number in the show.
They had me at "little Godzilla lizard". It sounds like there's going to be legions of undead animals in the film – how are they going to resolve that one in a child friendly manner? An old mausoleum that becomes a zoo? My mind boggles. Despite his initial denials the Frankenweenie script is by John August, Burton's collaborator on Big Fish and Charlie and the Chocolate Factory.
Producer Allison Abbate told Coming Soon at the Fantastic Mr. Fox junket that the film could well be shot in black and white, as was the original, as well as in new-fangled 3D. She also confirmed that production would take place in London, where Burton now lives and where both The Corpse Bride and Burton's recent stop-motion Moma spot were created.