Yogi Bear Finds His Ranger Smith: Tom Carvanagh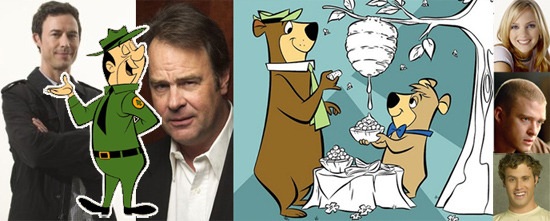 Last month when I posted the last casting update for the hybrid live-action/computer animated feature based on the Hanna-Barbera cartoon Yogi Bear, I wondered if Park Ranger Smith would be included in the film, as he had yet to be mentioned. Variety now has word that Tom Carvanagh (Ed) has joined the cast, and will be playing Ranger Smith.
Carvanagh will play the live-action lead, and romantic interest of another live-action character named Rachel (Anna Faris), a nature documentary filmmaker who is trying to film Yogi and Boo-Boo for her next project. Dan Aykroydwill voice the computer animated Yogi, the lovable Jellystone Park bear who is notorious for his attempts at stealing picnic baskets from campers, much to the displeasure of Park Ranger Smith. And Justin Timberlake will voice the computer animated Boo-Boo, a bow-tied bear cub who acts as Yogi's constant companion and conscience.
The film also features T.J. Miller (Hud from Cloverfield) as Ranfer Jones, a comic relief character. Miller auditioned for the role by recording a video with a real life bear. The reel made it all the way to Barry M. Meyer, chairman of Warner Bros. Miller was offered the role shortly thereafter. Watch that video and find out more here.
The big screen 3D movie is being directed by Eric Brevig (Journey to the Center of the Earth), from a screenplay by Brad Copeland (Wild Hogs). The film is currently filming in New Zealand . Warner Bros is aiming for a December 17th 2010 release.