VOTD: Patton Oswalt Spoofs The Room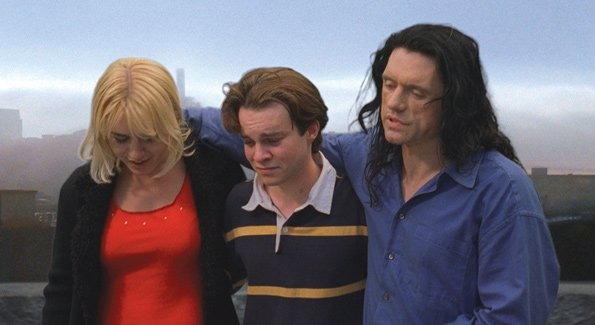 When compiling a list of the best and most important films of 2009, one must never forget to include Tommy Wiseau's The Room, even if it necessitates creating a lone, mutant category. Sure, the cult classic s*** champion was originally released in 2003, and was probably advertised on L.A. billboards years before that (joke), but 2009 was the year that The Room said "Hi doggie!" to the pop culture brain cave like a Centurion slug. To celebrate this achievement, Patton Oswalt has donned a Wiseauian wig in a new vid of spoof-offs like The Veranda, The Hallway, and (NSFWinedrinkers) The Bubble Bath. There's also a secret cameo. Hint: "Oh, hi Don Draper!"
Is it to our benefit that Oswalt didn't go the prolonged distance and recreate some rose-petal accented sax sex? And don't be mad at us if you watched that and thought, "Gee. Jon Hamm really phoned it in." Let's take a moment to reflect on a few Tommy Wiseau videos and appearances from this year. Here he is below on Tim and Eric Awesome Show: Great Job! The comedy duo invited him on their show to direct a new project entitled The Pig Man starring Jessica Alba.
Months before Oswalt, David Cross was rocking the wig in tribute. In the below vid he's joined at one of countless NYC screenings by his pal Jon Benjamin from Demetri Martin and [adult swim].
And with all the talk over the holidays about Tiger Woods's domestic dispute, let's close with Wiseau (as Johnny) denying everything in this cinematic classic. Pray that Woods's personal drama has a less gruesome yet less lame ending compared to Johnny's.