JCVD Director Adapts Graphic Novel The Insiders; Jessica Alba Still Attached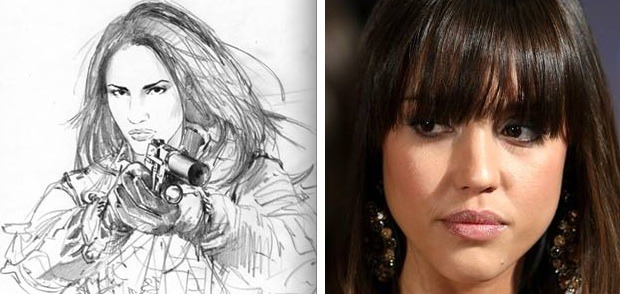 Back in June, we told you that Robert Rodriguez and Jessica Alba had optioned The Insiders, a French spy thriller comic book series featuring a female lead character that definitely harkens back to Alba's career-originating turn on the series Dark Angel. At that point the whole thing was just a rights option with Rodriguez set to produce. Now there's a director, and one that makes the whole package a little more intriguing: JCVD helmer Mabrouk el Mechri.Pajiba reports that el Mechri is on board — what, you thought there was ever a chance that Rodriguez would direct this one? Expect to see a lot more of this sort of producer action from the guy, especially if Predators does well. He's very much in a position to transition into the sort of producer that can enable less-established directors who do interesting or fan-pleasing work. JCVD was most definitely fan-pleasing.
I haven't seen any of el Mechri's previous French work, so I can't say if JCVD was a fluke, or proof that he's really got the goods. The Insiders could be a good thing for him, especially if he makes Alba look like she can act.
Here's a rundown of Jean-Claude Bartoll's comic book from ICV2, the site that broke the option story this summer:
Najah Cruz, a Colombian who is as deadly as she is beautiful. She has the weapons expertise and combat skills of a James Bond [sic]. At the secret request of the White House (CIA) she infiltrates a worldwide mafia-like organization composed of businessmen and politicians and becomes the bodyguard of the organization's leader.
Meanwhile, Alba may prove her chops in The Killer Inside Me, where she plays a prostitute that gets knocked around, while Rodriguez is finishing up Machete (with Alba guest starring) and overseeing Nimrod Antal on Predators.