Casting Notes: Donald Trump Cameos In Wall Street 2; Jeremy Piven And Kate Walsh Go To Canada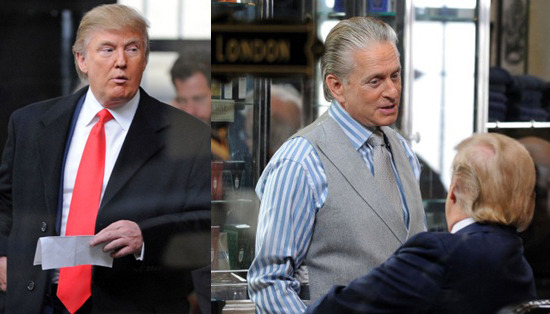 Quick, who's the most obvious cameo to have in Wall Street 2: Money Never Sleeps? I guess I've already given it away right there in the headline, but you should have had the answer anyway: Donald Trump. The cameo is so on the nose that I would have disbelieved it if I only read the account from the UK's Daily Mail tabloid. They make stuff up all the time, after all. But there are photos and everything, of Trump with returning star Michael Douglas, and director Oliver Stone.
We don't know who Trump plays, but I'd put my money on 'Donald Trump'. Hopefully it'll be nothing but a very brief appearance; I'll have enough trouble looking at Gordon Gekko twenty years later without dealing with the distraction of Trump's hair. Nic Cage has nothing on that guy.
After the break, a whole slew of actors join the indie Waska.
An indie drama called Waska just started shooting in Calgary, and it has a pretty impressive cast: Jeremy Piven and Kate Walsh just joined Thomas Dekker, Lynn Collins, Mira Sorvino, Elizabeth McGovern and Joseph Morgan. Yep, the great low-key Mira Sorvino comeback continues. OK, she never really went away, but after a couple of high-profile films she really dropped off the map for a while.
This film is about "a young father who loses his son, throwing the community into disarray at the time of Waska — the first snowfall of the year, which is magical but often treacherous." Guess Piven is the father, and we'll know more about who's who as the film goes on. Good to see Piven doign more to play outside the type created by Entourage. Hope this one works. Gaby Dellal is directing from Catherine Trieschmann's script, based on the novel Angel's Crest by Leslie Schwartz. [Variety]
asd