Darth Vader Is Carved Into The National Cathedral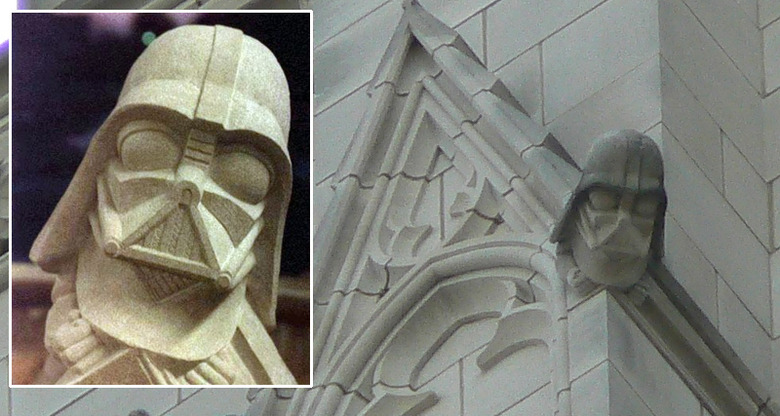 For me, that's the best part about reading a Dan Brown novel, is learning trivial bits of information on places and history. No one really reads Brown's books for his "master storytelling", do they? His latest book, The Lost Symbol came out while I was at the Toronto International Film Festival, and I haven't really had a chance to read it, but friend and Rejects editor Cole Abaius is working his way through it and mentioned last night on Twitter an amazing geek fact about the National Cathedral. And while this is in no way considered news, or new information, I thought it was interesting enough to share (heck, I didn't know about it...)
Did you know: Darth Vader is carved into the northwest tower of the National Cathedral in Washington DC? It's apparently true.
It's not a big secret, the National Cathedral's website even has an official page dedicated to the sci-fi grotesque. According to NationalCathedral.org:
"In the 1980s, while the west towers were under construction, Washington National Cathedral held a decorative sculpture competition for children. Word of the competition was spread nationwide through National Geographic WorldMagazine. The third-place winner was Christopher Rader, with his drawing of that fearful villain, Darth Vader. The fierce head was sculpted by Jay Hall Carpenter, carved by Patrick J. Plunkett, and placed high upon the northwest tower of the Cathedral."
It's apparently pretty hard to spot Darth, but you can do it with binoculars.The National Cathedral have actually created a self-guided tour printout sheet with directions (and even diagrams) for those who want help finding the dark sith lord.