Tarantino And Brad Pitt On Wacky Japanese Food Show, Pitt Wants Inglourious Basterds Prequels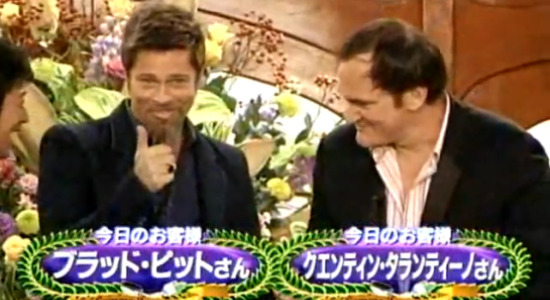 Talk of an Inglourious Basterds prequel is nothing new. Back in June we reported on a GQ interview where Harvey Weinstein talked about the vast amounts of material Tarantino had prepped for Basterds, much of which could be compiled into other films and projects. Word was that the next film would be about a squad of African American soldiers that come across the Basterds. Now we have news that Brad Pitt is actually pushing for the prequels from the unlikeliest of sources: A wacky Japanese food show.
Check out a clip of Pitt and Tarantino on the show after the break.
Tarantino had previously mentioned to MTV that "If Brad will have his way, then [a prequel or sequel] will happen." On the talk show clip below, Pitt furthered that thought, "I'm trying to get him to make a prequel. Two of them. Three of them." Obviously, he seems to joking a bit, but it does sort of confirm what we heard previously.
Now we've heard talk like this before from Tarantino with a potential Vega Brothers project, along with many potential ideas within the Kill Bill-verse. He's built up a reputation for talking about projects that will most likely never happen (though remember Basterds was also among this list just a few years ago).
Having watched Basterds several times in theaters, I'd personally love to see Tarantino flesh out the world a bit further. Despite being long, the film feels shorter and shorter to me upon every viewing. I'd also love to see a film that featured the Basterds more prominently, while giving us an idea of what Shosanna was up to before the first film.
Check out a clip from the Japanese show below. The full series of clips can be found here.
[Source: The Playlist]
Discuss: Would you like to see a Basterds prequel? Or should QT just focus on new projects?