Second Teaser Trailer For Toy Story 3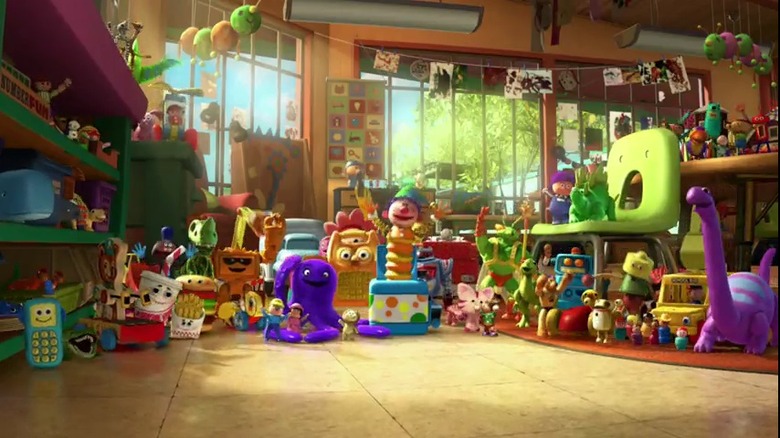 Update: This footage has appeared in previous trailers, just not the one I was played here at a Toy Story 2 screening in the UK. It seems there's a series of different trailers for different territories.
A second teaser trailer for Toy Story 3 has appeared on Youtube and you can see it embedded below the break. There's a bunch of new footage, a sprinkling very old footage, a slightly better idea of what some of the new locations and characters look like (including one pause-or-you've-missed-it crowd shot that hints at just how massive the supporting cast list might be), and an awful lot of sheer awesome.
Perhaps best of all is that it doesn't really feel like it's giving away too much either. It's another good teaser that plays in a similar way to the last one yet still feels fresh.
Here's the clip.
All those years and Andy still has the same wallpaper? I suppose there is a recession on.
I can't wait to see the new trailer in 3D, though I suppose I might have to, perhaps for ever. Most likely this will play in cinemas ahead of The Princess and the Frog, a 2D picture set to play only on 2D screens to non-glass wearing audiences.
Twitter use VMKSlinkyman (Eh? What does that mean?) recently posted the following image of a Toy Story 3 billboard down at Pixar Place in the Disney Hollywood Studios.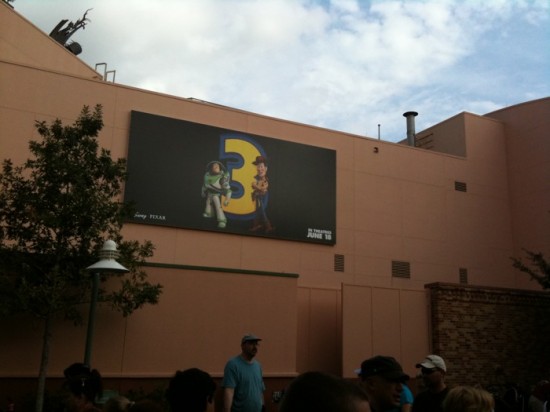 There's an awful lot of cap wearing going on in that picture, and not nearly enough gawping at Buzz and Woody.
None of the trailers for Toy Story 3 are yet to introduce us to any of the new major characters, either confirmed or rumoured. We're still expecting to meet Lotso Huggs, the evil bear played by Ned Beatty; Barbie's beau Ken, played by Michael Keaton; Mr. Pricklepants, a pretentious hedgehog played by Timothy Dalton and who knows what who else.