Jason Reitman's First Kiss In Kindergarten Cop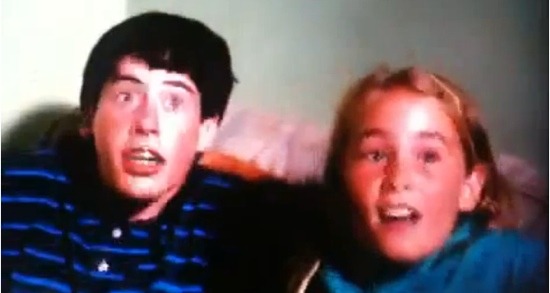 Before the Best Director nomination, before Up in the Air, Juno, Thank You For Smoking and even his wonderful short films, director Jason Reitman appeared as an "actor" in a bunch of films. In the 1980's and 1990's, Jason's father, director Ivan Reitman, gave him small cameo roles in some of his movies. Jason played Granger Grandson in Twins, Brownstone Boy #2 in Ghostbusters II, the Vice-President's son in Dave, the Wrong Kid in Alley in Father's Day, and most importantly Kissing Boy in Kindergarten Cop.
InContention has dug up the tape of Reitman's appearance in the 1990 Schwarzenegger comedy and put it online for all to see. In the scene, Arnold's character Detective John Kimble is searching the school hallways, when he bursts into an abandoned class room, interrupting two youngsters making out.
This was Jason Reitman's first kiss. Not just his first on screen kiss... but his first kiss with a girl,period. Talk about pressure. And imagine getting directions from your father who is yelling off to the side of a film camera. Thanks to Kris Tapley, we have the video, embedded after the jump.