Disney 'Accidentally' Removes Closed-Captioning From Up Rental DVDs; Promises To Rectify Screwup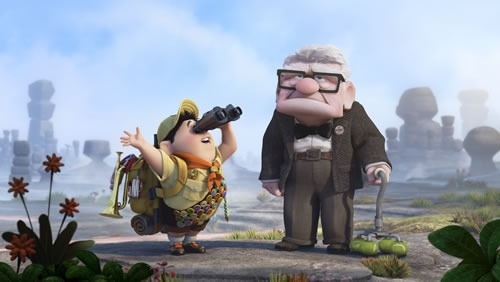 You probably never think much about the closed-captioning offered on most DVDs, but for those who are hearing-impaired, the feature is an essential one. Many people will wait to rent films so they can rely upon the captions to fully experience the film, rather than dealing with unpredictable volume levels at a theater or crappy headphones that only make the audio more glaring, not more clear. In short, closed-captioning is not a special feature and should never be excised from alternate versions of a DVD. (Or at all, for that matter.)
So consumers were upset to find that, in a marketing or cost-cutting move that definitely backfired, Disney removed all subtitles and captions from the bare-bones rental release of Up.
A small outcry built last week, which culminated in posts at The Consumerist and comments by Marlee Matlin and other disabled rights activists. The bottom line explanation that emerged from Disney seems to be that removing the closed-captioning and subtitles from the rental DVD was a boneheaded move meant to save a few bucks. Someone either got too zealous and stripped everything from the disc, or just didn't think about the ramifications of removing all captions. This is a strange thing to see on a Pixar film, as the company is quite good about providing accessibility features on other films, and the family-conscious Disney is also typically reliable.
Or was this a marketing ploy, akin to what Fox has been trying, where all features are removed from rental DVDs in an attempt to spur retail sales? The idea seemed terrible when Fox instigated it earlier this year (especially since you might say some of the Fox special features are likely to be better than the movie) and is no better now.
The good news is that Disney is already admitting that removing the captions was a big screwup, and promises that future rental editions of Up will contain proper captions. And with #captionaction as a constant thread on Twitter, thanks in part to Matlin, there are enough voices to address other similar oversights and screwups.
Here's Disney's current response in full, including contact info.
Thank you for your e-mail regarding the absence of closed captions from your Up rental DVD. The captions were inadvertently left off of the rental DVD. We regret any inconvenience this may have caused. We are working diligently to rectify this situation by shipping the corrected product to our accounts and creating a consumer program to address this matter. Since not all retailers will be able to participate in this program we will contact you once we have the specifics confirmed.In the meantime, please save the receipt or shipping confirmation and mail it to us at WDSHE Consumer Relations, Attn: "UP Rental" , PO Box 3100, Neenah, WI 54957, with your contact information (full name, home mailing address, phone number, email address) and we will contact you.Please let us know if you have any other questions or comments. You may contact us via email at DisneyInfo@DisneyHelp.com or via phone at 1-800-723-4763 Mondays 9:30-7:30 CST and Tuesday through Friday 9:30-6:30 CST.