The Loss Of A Teardrop Diamond Trailer #1: Bryce Dallas Howard And Chris Evans Do Tennessee Williams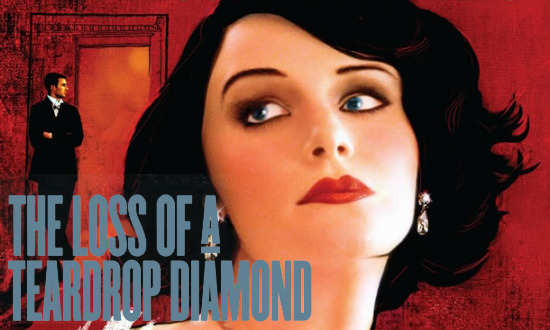 I'd known about a long-lost Tennessee Williams script being filmed, but had basically forgotten about The Loss of a Teardrop Diamond until the gorgeous poster debuted not long ago. A Williams screenplay, a cast with a few names I like (Chris Evans and Ellen Burstyn, for example) and a period setting? OK, I figure I could give that a chance. But the first domestic trailer for the film doesn't do it all that many favors. Indulge your curiosity after the break.
ComingSoon has the trailer as an exclusive; there's already been a sales trailer promoting the picture. I've seen a few writers wondering why we haven't heard much about the film up until now, given the legacy of the screenplay (lost Tennessee Williams should be pretty big) and the name value of the cast. It was at TIFF08, but didn't make much of a splash. I'd expect that the basic reason is that it isn't very good. This trailer, which is relentlessly old-fashioned, certainly doesn't do much to play up possible strengths. And I've heard from a few viewers that while Burstyn and Evans are good (no surprise; I'm still waiting for Evans to truly break out as he's almost always good) Bryce Dallas Howard doesn't manage to carry the picture.
Here's the official synopsis:
THE LOSS OF A TEARDROP DIAMOND is a new drama based on a recently rediscovered original screenplay by legendary writer Tennessee Williams. Starring Bryce Dallas Howard and Chris Evans, the Paladin release will open in New York and Los Angeles in late December, with expansion to major markets following in early 2010. Academy Award-winner Ellen Burstyn, Academy Award-nominee Ann-Margret, Mamie Gummer, and Will Patton co-star in the film which was directed by award-winning short filmmaker and stage and screen actress Jodie Markell, in her feature debut.
Immediately below is the new official trailer; under that I've embedded the earlier, more rough trailer for the sake of comparison.