Richard Linklater Talks Before Sunrise/Sunset, And Ponders A Third Film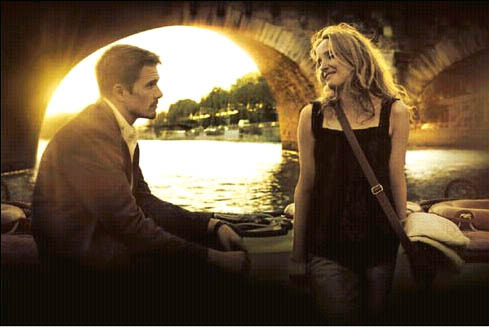 The prospect of Richard Linklater making a third film in the Before Sunrise/ Before Sunset series is terrifying to me. The first film was a perfect piece of twenty-something romance, and through some sort of miracle, Linklater was able to craft a superior second film that sees the characters ten years later in very different places in their lives. Could they really do it a third time? Our friend Frosty from Collider recently had a sit-down with Linklater for Me and Orson Welles, and popped that very question.
Linklater mentioned he talked about it with Julie Delpy recently, and that ideas have been thrown about (Delpy and co-star Ethan Hawke were heavily involved with the films). Apparently, they too were afraid to do a second film, and they "treaded into those waters very cautiously." Thankfully, the concept and execution of Before Sunset were pitch-perfect, but I could definitely understand why they have the same reservations about jumping into a third film.
Linklater went on to say that they needed a compelling and challenging core idea before they decided to tackle another entry in the series—which is exactly what I want to hear. I respect the fact that he's not a filmmaker that will just make a third film simply because the fans or studio want it. At the same time, I sure hope he finds some creative spark to make this happen.
It's rare that a film can create such full personalities in viewer's minds, but Linklater, Delpy, and Hawke accomplished that with Before Sunrise. They went on to treat those characters and their relationship with maturity and heartbreaking realism in Before Sunset—a film that remains among a handful I would consider with perfect endings.
On another note, when asked about potential Blu-ray versions of the films, Linklater said he wasn't sure if the DVDs were selling enough to warrant the re-release. Since we're most likely going to have to wait a while for a third film to happen (if ever), I do hope that Warner Brothers bites the bullet and gives us the best quality versions of those films sometime soon.
View the entire video interview over at Collider.