Jody Hill's The American Budget Shopping Network With Andrew Daly And Collette Wolfe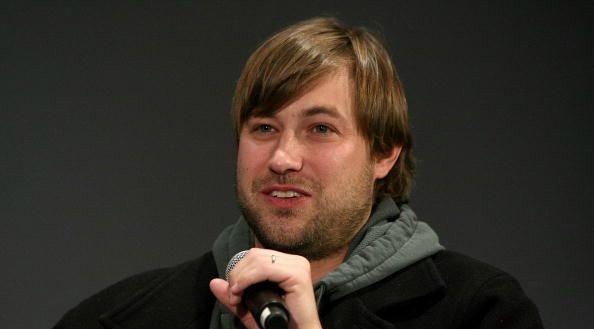 Viral videos have popped up this week under the guise of scratchy infomercials for something horrendously called The American Budget Shopping Network. A few readers have emailed in to ask if these are previews for the upcoming season of Eastbound & Down, which is understandable since they are hosted by Andrew Daly, aka Principle "I've been goin' a little bit of crazy" Cutler, and are faux-aired from North Carolina. Well, they aren't for the show's second season, but they are directed by series co-creator, Jody Hill, and tie into his native town of Concord. View all five videos and find out what they are for after the jump, or call 1-888-TAB-9373 to order a "Candy Lamp" from a distraught Daly.
Also appearing in the above video is actress Collette Wolfe, who co-starred in Hill's The Foot Fist Way and Observe & Report and memorably squirmed the hell away from Fred Simmons. She's also from North Carolina and just so happens to be Hill's wife. It turns out that the videos are in support of The Avett Brothers, a rock band from Concord (Charlotte, NC), that just released a new album in September entitled I and Love and You. As you'll see, the above informercial turns into a music video for their single, "Slight Figure of Speech," and then unravels into trashy chaos.  The retro spirit and boobtube aesthetic reminded me of Spike Jonze's vid for "Buddy Holly." Also worth noting is that Daly attempts to sell their album cover, featuring a creepy broad and a skull, as an Americana work of art.
The elaborately-conceived "TAB Network" has a YouTube channel featuring a back story written by a fictional, Southern TV-junkie and several other vids included below. And of course, said TV-junkie loves Twilight. Btw: TAB is an acronym for the band.Anyone who has ever smoked weed from a Cheerwine can at a Motel 6 at 4 a.m. has probably seen and called into a knife show that looks like this...with or without the Videodrome-like signal.You better "wash that ass" wash that murder scene...
In this one, Wolfe is modeling and shilling dresses that might appeal to Sandra Bullock's "real Southern woman with ungodly dye job" character in The Blind Side...
And here we have Wolfe being sexually harassed with a "Green Dust Fuzzer"...Hill has a thing for putting ladies in gross and potentially threatening situations.
Another NC band that Hill, Ben Best, and Danny McBride rep is The Dynamite Brothers from Chapel Hill. Their music was used in Eastbound & Down's first season; they rip shit up and just had a local record release party at a venue called The Cave. Check 'em out. Look for updates on /Film about the fucked-up second season in the life Kenny Powers in the coming weeks, as episodes are currently being written for production after the New Year.