Updates: The Goon Script Is Finished; First Hobbit Script Done, Too; Forbidden Planet Could Be A Franchise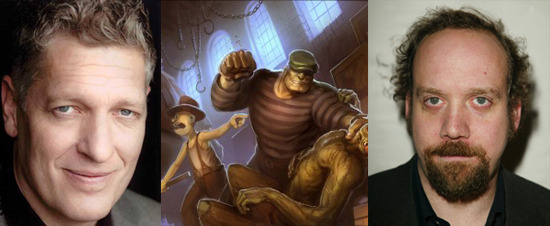 Peter's got a massive Page 2 for you today, but here are three bites that didn't make it. Each one is a small but significant update on a going project.
First up: the movie version of Eric Powell's comic book The Goon. Last we heard of this was at my favorite panel, bar none, from Comic Con this past summer. There, Powell showed off a couple of brief animation clips that demonstrated what the proposed movie version of his comic would look like. They looked great, and sounded fantastic. Paul Giamatti and Clancy Brown contributed their voices to the clips, and we hope they'll be cast in the film. Now Powell says the script is finished, and that producer David Fincher is still part of the project, though likely only as producer, rather than director. "David's going to be heavily involved. I've worked with him and Blur [Animation studios] quite a bit to get the screenplay together, and it's been a great experience so far." [Comic Book Resources]
After the break, brief Hobbit and Forbidden Planet updates.
Not much on the Hobbit front right now, but Peter Jackson confirms that script number one is finished and delivered. Jackson says "the studio" seems to be happy with what he, Guillermo del Toro, Fran Walsh and Philippa Boyens have delivered so far. Now maybe we'll hear some casting news. [The One Ring]
Finally, there's the J. Michael Straczynski-scripted new version of Forbidden Planet. The writer says he's keeping very faithful to the original, but adding backstory about the Bellerophon, the ship whose crew disappeared on Altair IV before the events of the original film. He's also making room for a possible sequel, as WB sees the film as a possible franchise-starter. Groan.
He does say that while there's a bit more action, "it's still a strong character piece, because it's based on The Tempest and the idea of a father whose daughter is being courted by, in the original play, sailors that are washed up on shore." [SciFi Wire]