Judd Apatow Bringing Us Three Movies From Aziz Ansari And Jason Woliner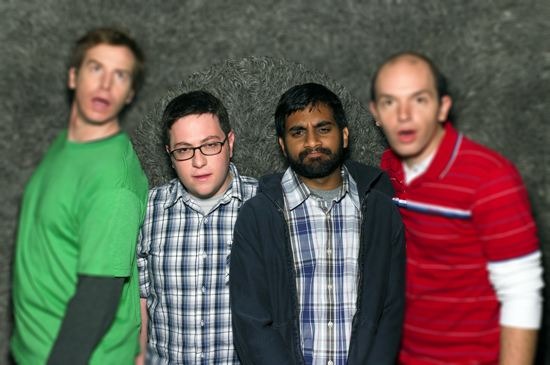 Now that must have been one damn successful breakfast meeting. Apparently, comedian Aziz Ansari (Parks and Recreation, Human Giant) and director Jason Woliner (Human Giant, Players) recently sat down for breakfast with Judd Apatow and pitched him three ideas for future projects. To their surprise, Apatow wanted all three.
Little else is known about the films, Ansari explains why:
We are hesitant to say too much about our ideas. A few years ago, we announced our new idea about a film where the world ended in the year 2014. We have since had to stop developing this movie.
As a huge fan of Ansari and Woliner's work, I'd be amped for any project they launch. Now that Apatow is behind it as a producer, I'm even more excited. The only problem now is that with their rising careers we probably won't be seeing any more Human Giant for a while, if ever.
Ansari can be seen in the upcoming Forgetting Sarah Marshall spinoff Get Him to the Gig (recently changed from Get Him to the Greek) , and Woliner will be directing the pilot for the upcoming Cartoon Network Adult Swim series Eagleheart.
[Source: Variety]