What Role Will Kat Dennings Play In Thor? We Know!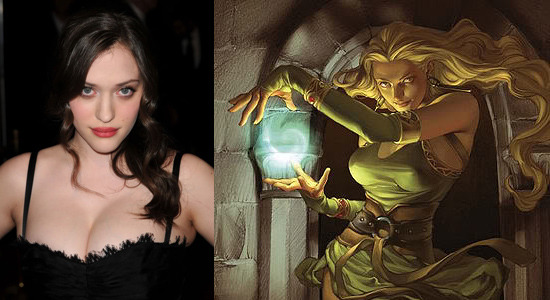 Yesterday, Natalie Portman let it slip that Kat Dennings had been cast in Kenneth Branagh's adaptation of the Marvel comic book Thor. Portman didn't reveal what character Dennings would play in the film, and The Hollywood Reporter, who was quick to confirm the report, was unable to uncover any further details.
Portman is playing Jane Foster, nurse to Thor's human alter-ego Donald Blake, and Jaimie Alexander is the Asgardian warrior Sif, so what role could Dennings play? Earlier today we played the guessing game, with readers suggesting The Enchantress Amora and Hela, the Asgardian goddess of death, as the top choices. We now have a much better idea which character Dennings will be playing on the big screen. What role does she play? Details after the jump.
Our friends at Heyuguys did some hardcore researching, and came across a casting call for Thor which was posted on Spoiler TV in October. The casting breakdown included the "Warriors", which you may recall has since been cast with Ray Stevenson, Tadanobu Asano and Stuart Townsend. One role on the breakdown seems perfect for Dennings:
"[MARCY LEWIS] (20) Is a college student. Aloof, jaded beyond her years, she thought her internship with scientist Kate Spelling would be an easy 6 college credits. However, she's been stuck for months in this small New Mexico town and relegated to a wide range of unglamorous activities. Kate has been particularly hard on Marcy, making it her personal project to see that Marcy lives up to her potential. Marcy deals with her situation both by using subtle irony and by being an overt wiseass."
While I'm not sure I see Dennings playing adark godess or enchantress, I can definitely see her as Marcy Lewis. Read the last line of the casting breakdown again:
"Marcy deals with her situation both by using subtle irony and by being an overt wiseass."
That certainly sounds like a description of a character the Dennings has played on film a couple times before. And I'm willing to put money down that this is the character that Dennings will play in the film. Also, the fact that the character is a scientist could mean that she knows medical student Donald Blake, Thor's human alter ego. No word yet on how Kate Spelling, the scientist she is interning for, might play into the picture.