Page 2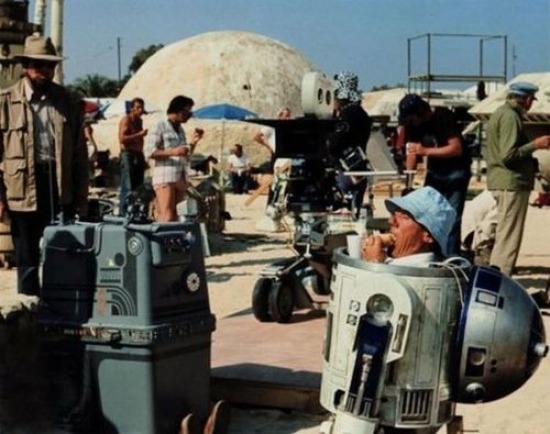 Page 2 is a compilation of stories and news tidbits, which for whatever reason, didn't make the front page of /Film. After the jump we've included 49 different items, fun images, videos, casting tidbits, articles of interest and more. It's like a mystery grab bag of movie web related goodness.
Lunchtime during the filming of the original Star Wars. [tdw]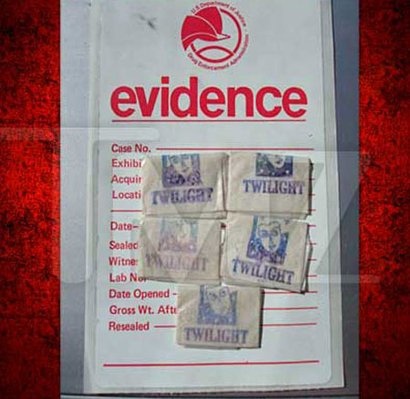 Mini-LOL: Heroin baggies, featuring a cartoon Robert Pattinson and the text "TWILIGHT", were recently seized in West Hempstead, Long Island, but TMZ is reporting that the Twiligh-themed drugs have been gaining popularity all across the east coast.Uma Thurman has signed to star opposite Robert Pattinson in an adaptation of Guy de Maupassant's short story Bel Ami. [THR]
In honor of the Thanksgiving holiday, Swedish Chef attempts to cook a Turkey from an old episode of The Muppet Show.
This USB Alien with illuminated tongue actually exists, and you can buy it. [geekstuff4u]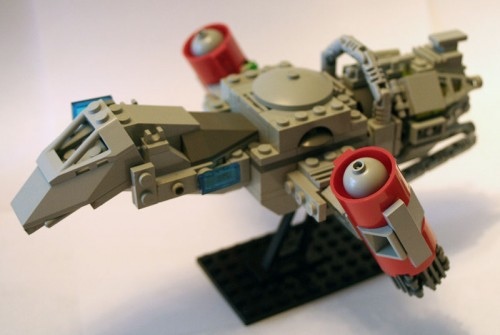 Someone built Serenity out of LEGO. [myconfinedspace]
Richard Linklater talks briefly to Collider about his 13 year film project starring Ethan Hawke and Patricia Arquette.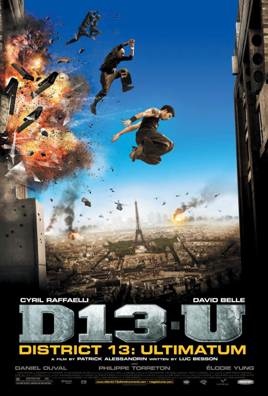 Magnet has released the poster for District 13: Ultimatum.
You can listen to The Weary King, the theme from Fox Searchlight's Crazy Heart, written by Ryan Bingham and T Bone Burnett, performed by Ryan Bingham, on Fox Searchlight.com.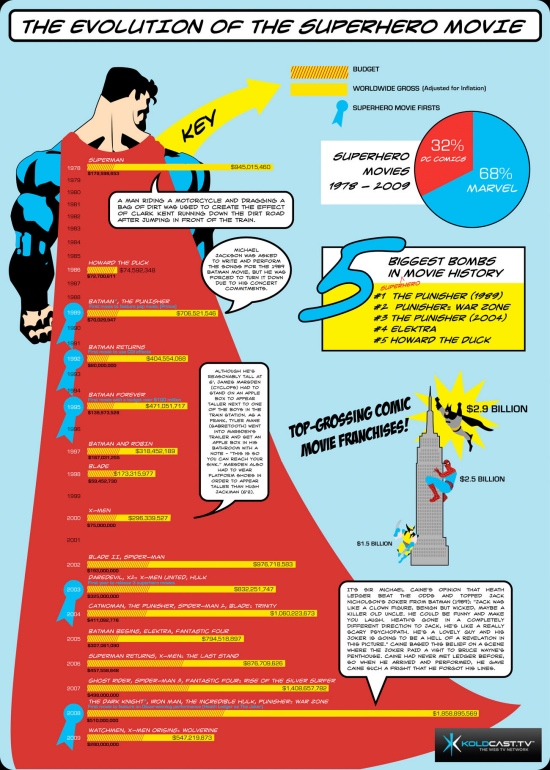 KoldCast has produced this wonderful infographic showing the evolution of superhero movies. Click through to see it in higher resolution.
Derrick Comedy's Mystery Team will get release in New York City on December 4th 2009. Click here for showtimes and tickets.
Warner Bros. Pictures has released an international behind-the-scenes featurette for Guy Ritchie's Sherlock Holmes. [shh]
Spider-Man 4 will shoot in Spring 2010 says Tobey Maguire. [hitfix]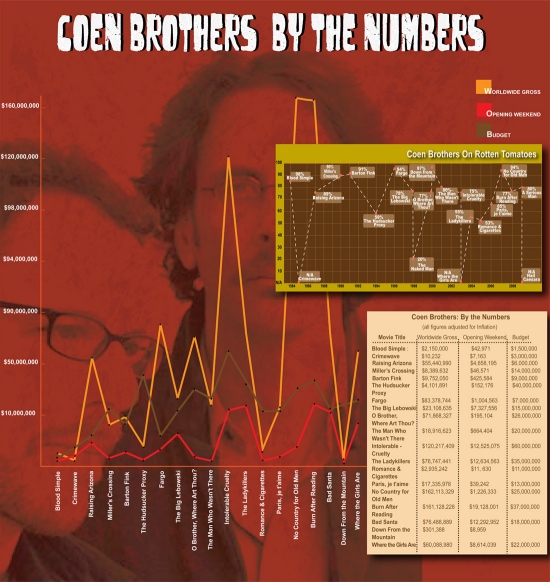 The Daily Fill take a look at The Coen Borthers: By the Numbers. Click on the infographic above to enlarge.ScriptShadow has a screenplay review of the Columbia Pictures horror project Supermax (no relation to the DC comics project): "For you action horror freaks, "Supermax" is a fast read with plenty of machismo and gore. The writers have a gift for narrative drive. They know how to create it, they know how to sustain it. Narrative drive, regardless of accoutrement, can haul a story addict through the entirety of a script. Unfortunately, this draft disappointed me, and not just because the script didn't live up to the logline I was expecting."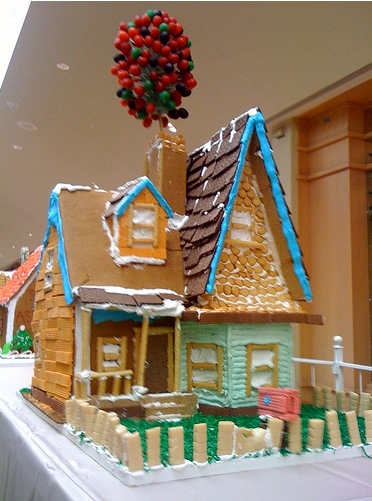 Someone recreated Carl's house from Pixar's Up using gingerbread. [flickr]
Paste Magazine lists the 10 best movie soundtracks of the decade.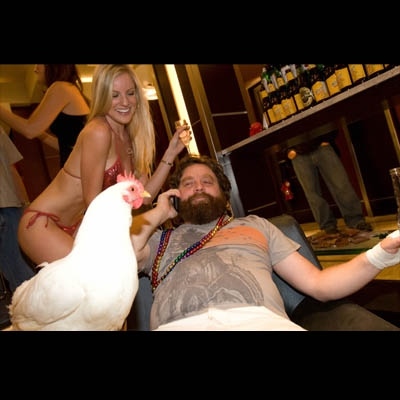 TMZ has never before seen photos that weren't used in the ending credits of The Hangover.
Filmmaker Mark Romanek provided a micro review of Trash Humpers on Twitter: "TRASH HUMPERS. Elegant, perverse, dreamy, hysterical. Harmony is elasticizing the form. He's allergic to cliche'. I had a grand old time."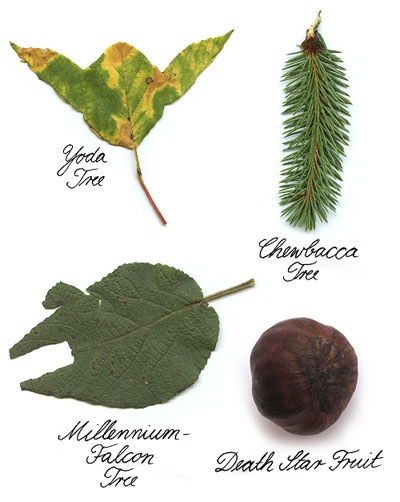 The New York Times Abstract City blog has a clever collection of foliage which resembles characters and ships from Star Wars. [star wars blog]rekuru has a list of five movies which should be made into animes, and yes, Blade Runner is #1.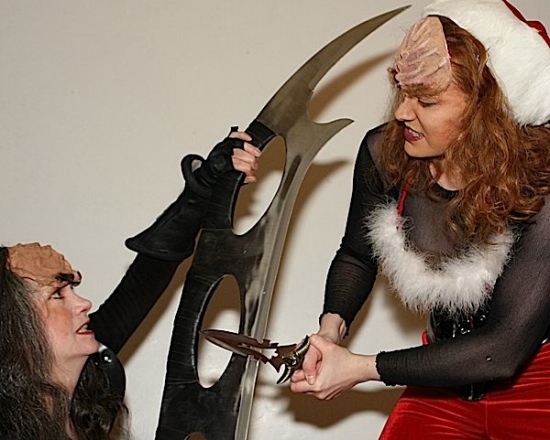 A Klingon Christmas Carol will be playing November 27 through December 13 at Minneapolis' Mixed Blood Theater. [boingboing]
Actor Stephen Tobolowsky is now on Twitter: @Tobolowsky.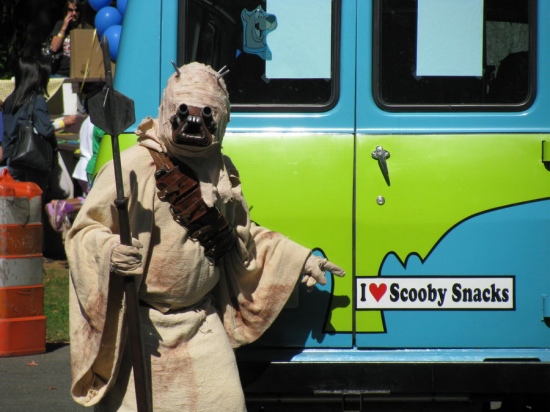 Who knew? The Tusken Raiders love Scooby Snacks? [deviantart]
The Roman Catholic Church has expressed concerns over the growing popularity of the Twilight films, calling the vampire franchise a "moral vacuum with a deviant message". [imdb]
Someone has put together a fan made Batman 3 movie trailer, mashing up clips from other films to present a situation where Johnny Depp is The Riddler and Philip Seymour Hoffman plays The Penguin. [splash]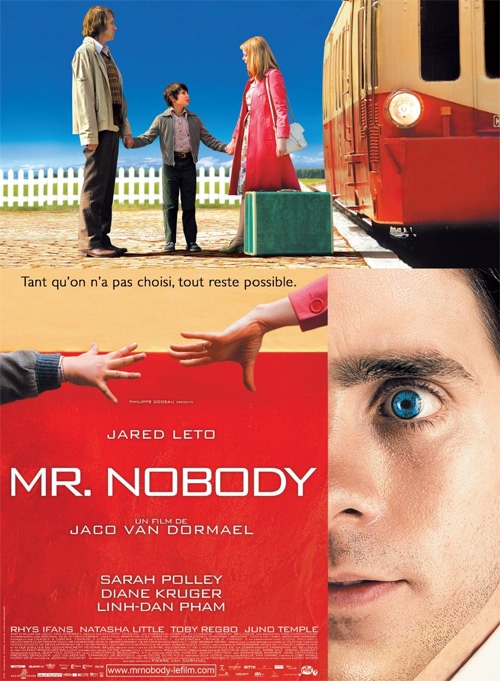 FirstShowing has the French poster for Jaco van Dormael's Mr. Nobody.
Warner Premiere's Lost Boys 3: The Thirst has found its leading lady. Tanit Phoenix will play Gwen Liebling, a vampire-romance novelist who calls upon Edgar Frog (Corey Feldman) to rescue her son Peter from the vampire known as DJ Dusk. [shock]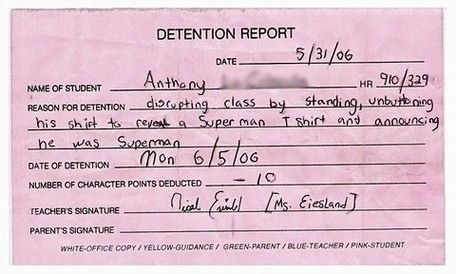 This is what you get when you get detention for pretending to be Superman. [toplessrobot]
FX has acquired the ad-supported TV rights to the four Twilight movies. [thr]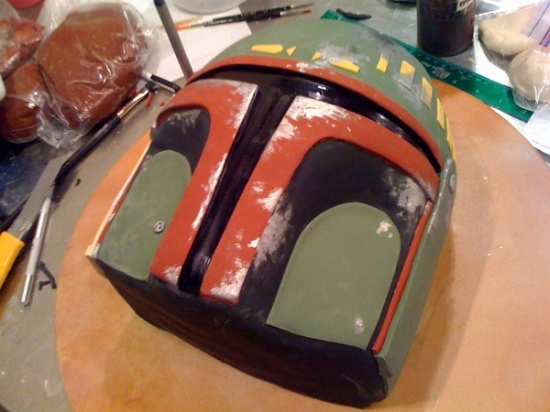 Charm City Cakes created this Boba Fett Cake.[gws]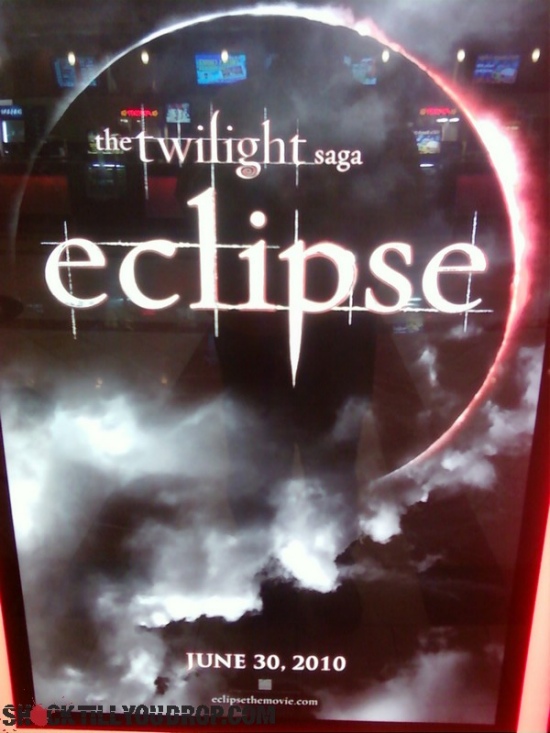 Shock has a photo of the first teaser poster for David Slade's The Twilight Saga: Eclipse.
This art print by Tom Gauld titled Characters for an Epic Tale sold out before I could buy one.
The world premiere of Avatar takes place in London on December 11th. The stateside premiere takes place in Los Angeles at the Chinese Theater on December 16th. [heat]
Dimension Films has released a new review quote movie poster for The Road. [impa]
Mini-LOL: "Twilight star Robert Pattinson says he worries about being infected with HIV when adoring fans approach him with open wounds and ask him to suck their blood." [msn]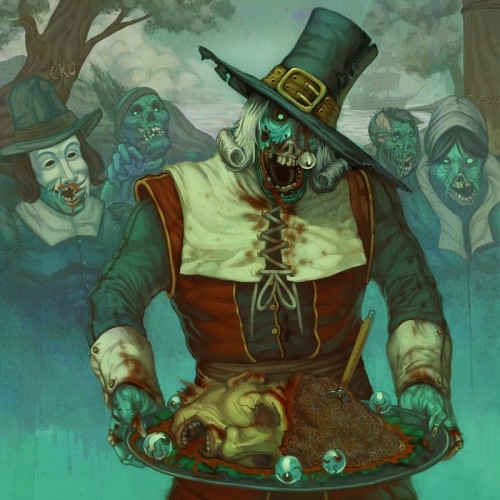 If Zombies had invaded the original Thanksgiving... [myconfined]
Pajiba has an article titled How the Twilight Phenomenon Doesn't Signal the End of Cultural Civilization, And How It's Unlikely to Improve Female-Oriented Genre Fare.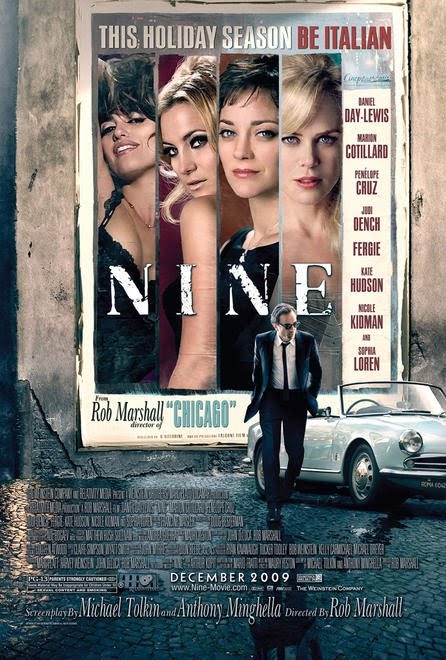 YahooMovies has the official poster for Rob Marshall's musical Nine. Cinematical has another official poster for the film. Click below to see it in full: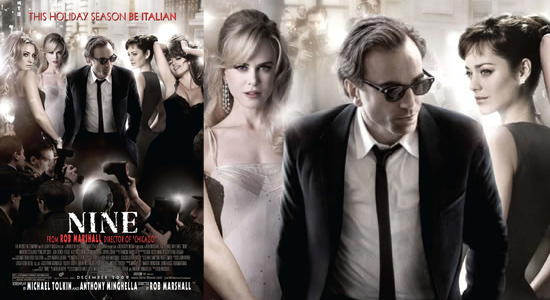 AICN has an exclusive clip from Jason Reitman's Up in the Air featuring Jason Bateman.
Speaking of Up in the Air, you can download Twitter skins for the film here.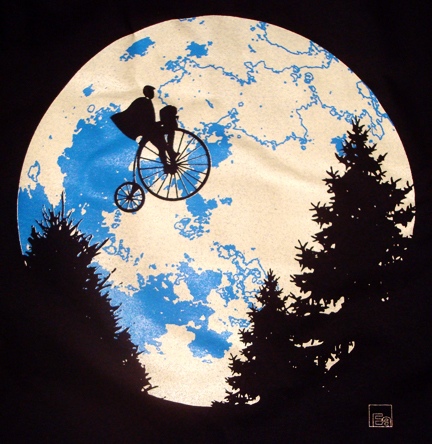 What if E.T. were set during the late 1800's instead of the 1980's? The iconic shot of Elliot and E.T. riding over the moon might look like this tshirt design from Escape Artists.
Focus Features has acquired multi-territory international distribution rights to Matthew Vaughn's superhero adaptation Kick-Ass.
Someone compiled a video of every-time someone says "Hey, man" in the movie Dazed and Confused. [filmdrunk]
Watch the first five minutes of Deadline starring Brittany Murphy. [rejects]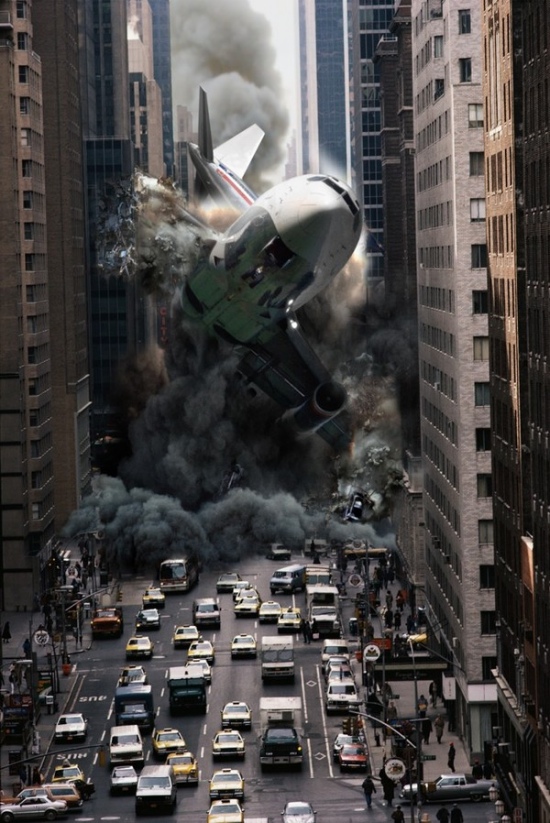 Here are a few of my favorite post apocalyptic images from My Modern Met's "What if 2012 really happens" posting: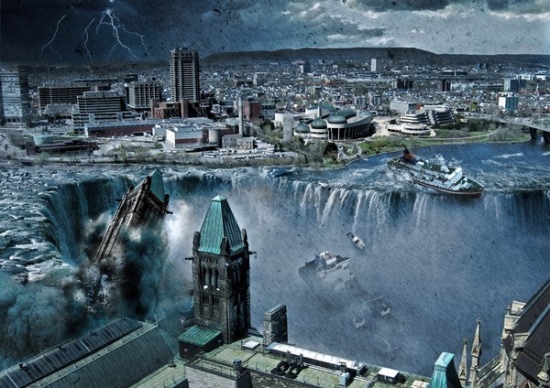 Seven bulls being used in the filming of Knight & Day, starring Tom Cruise and Cameron Diaz, have broken free in Spain and slightly injured two people. [THR]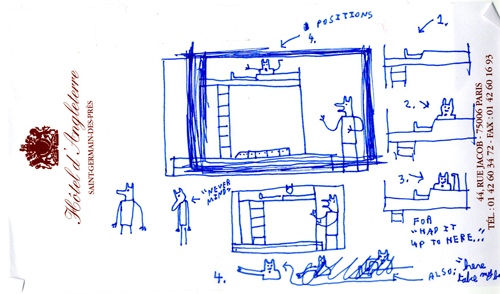 Wes Anderson writes about the making of his favorite scene from Fantastic Mr. Fox. [huffpost]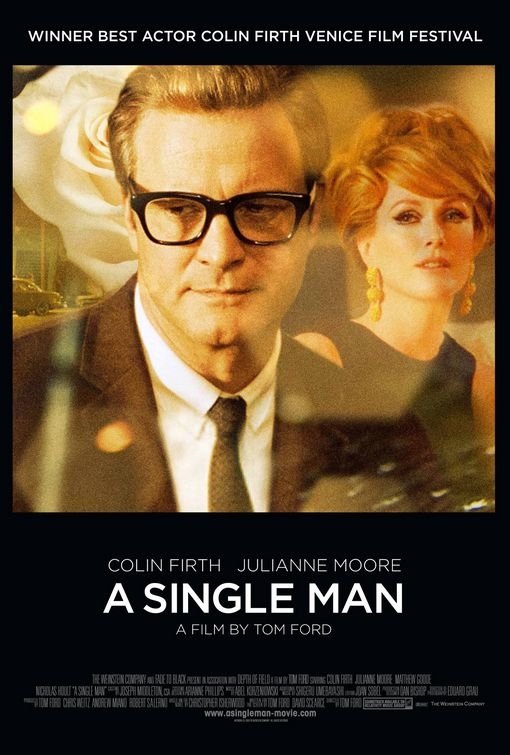 TWC has released the second movie poster for A Single Man. [impa]