Casting For The Crow Remake Underway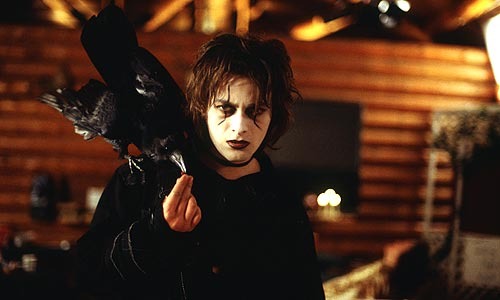 Casting is underway for the next theatrical iteration of The Crow, and the actor chosen will face the still-daunting task of walking in the late Brandon Lee's Goth-approved footsteps. Last month, I reported on an update of the script written by Blade director Stephen Norrington, and today brings an update from producer Ryan Kavanaugh (Brothers, Nine). So, what guy will be chosen—re: a female Crow is not being considered—to reprise the role of an undead rock musician who wreaks havoc on mortal goons? Let us know what you think of Kavanaugh's comments and leave your own below.
Are you casting right now and looking?
We're looking. We're in discussions....I think it's something cool, we're approaching it differently. It's really a whole relaunch of the franchise, much more of a dark superhero type. It will be an actor you've heard of, yes. We're not ruling anything out. We're looking at both, with the very well known and the "very talented but they may not be quite there yet."
Way to limit it down. He may as well have revealed, "Well, I can tell you that it's not Edward Furlong (pictured happily above in Crow: Wicker Prayer) or Matthew Perry." He goes on to say that the gritty tone of the revamp will be faithful to the 1994 cult hit, and that The Crow's makeup will be different but, you know, the same.
He also compares the new look and feel of the character to Batman Begins, a par for the course analogy for all of today's comic book remakes (until Kick-Ass usurps it). However, it doesn't quite fit in this instance. Begins was darker and more realistic compared to its predecessors, sure, but the original Crow was a faithfully nihilistic comic book adaptation set in a drug-addled metropolis with grounded characters (Ernie Hudson played a likable and weary cop). Fifteen years later, the film remains one of the few creatively and financially successful R-rated superhero adaptations (the first two Blade films and Sin City are others), so a comparison to the PG-13 Begins or The Dark Knight would theoretically imply a softer, trendier take.
And we've known that it's the first entry in a planned, theatrically-released franchise, so perhaps a PG-13 is in the cards? Then again, Norrington has described his vision as "hard edged" with a handheld-like aesthetic associated with R-rated horror fare. One topic not mentioned thus far is the project's soundtrack; to this day, the original film's is viewed as a time-capsule of '90s Nothing Records-era rock (JAMC, My Life With the Thrill Kill Kult) alongside the more bizarre novelty that was Judgement Night's grunge/rap hookups. Since the character's involvement and foundation in rock 'n' roll music and its stylings is ingrained in the source material, I expect music to once again play a vital role. Fans will be checking for suitable music second to the chosen actor, so the filmmakers can't over look this.
Who should be next up to set blaze to a crow-shaped trail of gasoline?May I suggest: one of the Birds of War?