T.J. Miller Creates Yogi Bear Audition Tape With Actual Bear; Gets Cast In Movie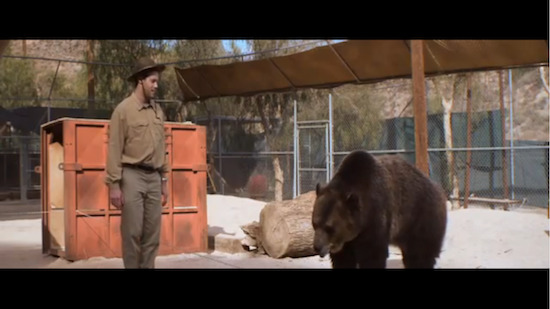 Most of you probably know T.J. Miller as Hud, the frazzled cameraman/comic relief in Matt Reeves' Cloverfield. Turns out that since that performance, Miller has been angling for a role in the forthcoming adaptation of Yogi Bear. While cartoon-to-screen adaptations have typically ended up being abominations, this one at least looks like it has a pretty good cast going for it, with Anna Faris, Justin Timberlake, and Dan Aykroyd signing on a few weeks ago.
According to The Apiary, Miller had already been called in to audition twice for the role. Afterwards, as a joke, Miller worked with filmmaker Jordan Vogt-Roberts to create the below audition tape, in which Miller interacts with a real-life bear. The video somehow made its way to Barry Meyer, the chairman of Warner Brothers, resulting in an offer for the part of Ranger Jones. Presumably, Ranger Jones will be a live-action role, while Yogi and Boo-Boo will be computer animated. Hit the jump to see the video.
Miller told the Apiary, "I'm excited about this role because they saw the reel and appreciated what a bizarre dude I am." Indeed, the video is pretty ballsy, as Miller gets right up close and personal to the bear, with hilarious results. But there's also the somewhat-interesting do-it-yourself nature of the story. With technology the way it is these days, anyone can audition for any role, so long as they create content that's original and inventive (or at the very least, displays a significant amount of chutzpah), and know how to spread it.
In any case, I think you'll agree that while Miller is decent, it's the bear whose acting chops really shine. Let us know what you think in the comments: