Pixar's Up Tie-In George And AJ Now Online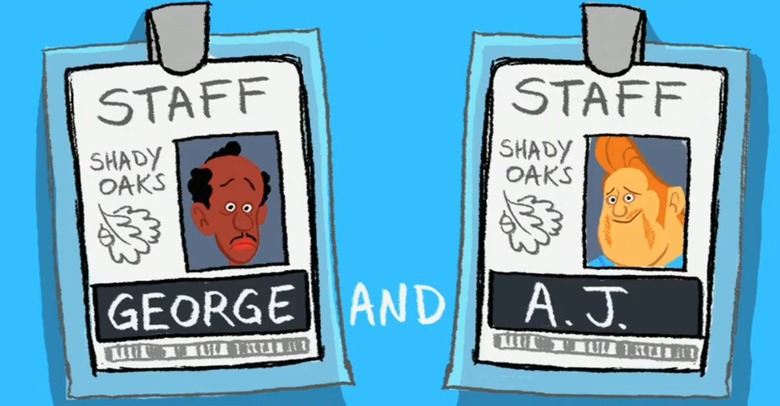 George and AJ is a short film-cum-animatic that, until today, was only officially available as an extra with the iTunes release of Up. Now, though, the clip is online and you can see it after the break.
Like Burn-E or Jack Jack Attack before it, this is a side story to the main narrative of the associated feature film, in this case featuring Shady Oaks caretakers George and AJ dealing with the aftermatch of Carl's big escape. George and AJ was written and directed by Josh Cooley
You'll have to tell me what you think about the style used here. I found it quite sweet and more than a little reminescent of the old LucasArts SCUMM game, Day of the Tentacle.
I would speculate that this was one of two pitched shorts for the Up disc, with Dug's Special Mission getting the nod for full production and George and AJ left as a presentation piece. It was definitely too good to just toss aside, though, so I'm glad we're now all getting to see it.
When it was announced that this short would only be available as an iTunes extra I was quite dismayed. I'd like to think there's at least one format of every film that will include all available supporting material particularly interesting supporting material like this. I think Disney Pixar have done the right thing by releasing the short to YouTube,  and I hope any fans who purchased the iTunes version of Up just to get this film don't feel too hard done by. Don't do it again, please, Disney.
You may have noticed that Carl's voice was not performed by Ed Asner in this short, with Steve Purcell instead doing the honours. Purcell is a story man at Pixar, since Cars, but in a former life was the creator of the rather superb Sam and Max and worked as an animator on several LucasArts video games.
I think I've just written myself around in a big circle and need a sit down. One more watch of George and AJ while I'm at it...