Season Of The Witch Movie Trailer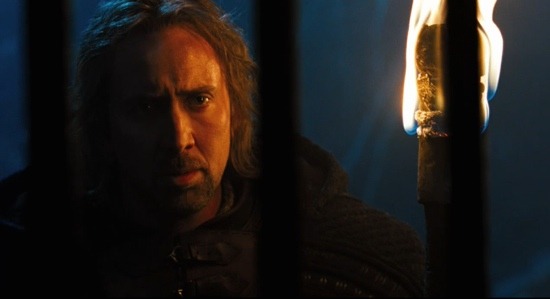 Last month, Lionsgate released a special 30-second Halloween teaser trailer for Dominic Sena's supernatural thriller Season of the Witch which had us scratching our heads. Sena is best known as the director of fun but disposable action films like Gone in Sixty Seconds, Swordfish and the recent comic book adaptation Whiteout, and I had heard great things about Brian Schut's script... But the teaser looked like a direct-to-dvd Dark Castle production. The new trailer gives us a much better idea of what to expect, and somewhat raised expectations. Watch the trailer for yourself after the jump, and leave your thoughts in the comments below.
The film stars Nicolas Cage as a 14th century Crusader who returns with his comrade (Ron Perlman) to a homeland devastated by the Black Plague.
"A beleaguered church, deeming sorcery the culprit of the plague, commands the two knights to transport an accused witch (Claire Foy) to a remote abbey, where monks will perform a ritual in hopes of ending the pestilence. A priest (Stephen Campbell Moore), a grieving knight (Ulrich Thomsen), an itinerant swindler (Stephen Graham) and a headstrong youth who can only dream of becoming a knight (Robert Sheehan) join a mission troubled by mythically hostile wilderness and fierce contention over the fate of the girl.When the embattled party arrives at the abbey, a horrific discovery jeopardizes the knight's pledge to ensure the girl fair treatment, and pits them against an inexplicably powerful and destructive force."
Click on the image below to watch the trailer in high definition on fandango.

Season of the Witch hits theaters on March 19th 2010.