Listen: This American Life Segment That Inspired Santa Wars, Movie To Be Written By Mike White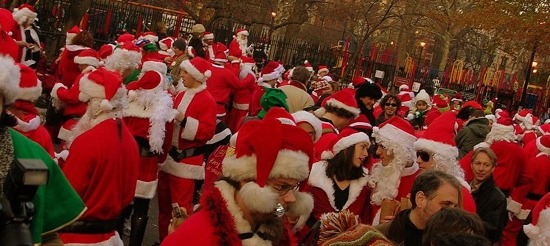 Paramount Pictures has hired School of Rock screenwriter Mike White to script Santa Wars, a comedy based on the true story which appeared on This American Life in December 2008. The story, written by Joshuah Bearman, told of two rival factions that developed within a union of professional Santa Clauses, which resulted in a "Santa Claus civil war."
White is best when put in the dark comedy arena, and this might be a perfect fit. This story is definitely more akin to Bad Santa than Elf. White's previous credits include Dead Man on Campus, Chuck & Buck, Freaks and Geeks, and The Good Girl. More recently, he's had a turn in more family-friendly territory with School of Rock and Nacho Libre, before making his directorial debut Year of the Dog.
After the jump you can find more information about the original story that has inspired this feature film, and even listen to that original segment.
Here is a description of the original story from Chicago Public Radio:
A tale of two Santas. There's Tim Conaghan, a full-time professional Santa with a big belly and a real flowing white beard. And there's Santa Nick—he too has a belly and real white beard. But the story of Santa Tim and Santa Nick is not like most uplifting Christmas parables. Instead, it's about two men, very much alike, who came to lead rival factions in a bitter Santa civil war, and came themselves to be arch enemies. Josh Bearman reports on the political schism that's overtaken the Amalgamated Order of Real Bearded Santas.
You can listen to the whole 27-minute segment on ThisAmericanLife.com. Play the episode and fast forward to the 22:30 mark.
source: variety