Peter Iliff To Write American Gladiators Movie, Will It Be 3D?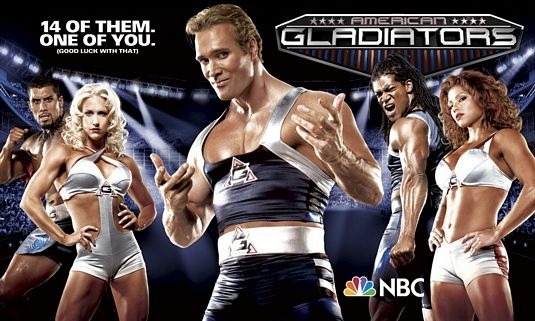 In May we told you that Hollywood was going to develop a movie based on the television show American Gladiators. I had hoped it would be one of those projects that would slip into nothingness, never to be heard from again. Not so...
Patriot Games/Varsity Blues scribe Peter Iliff will write a screenplay based on an idea by former Legendary Pictures chief marketing officer Scott Mednickis (Teenage Mutant Ninja Turtles) who is producing the feature. Iliff is probably best known for writing Point Break, and recently wrote the upcoming sequel Point Break Indo.
The film will be set inside the world created in the tv show and will present "a compelling story that launches a whole new set of characters" with the "Herculean characters as superheroes." I can't even imagine what an American Gladiators movie would be like. On one hand I would love to see a remake of The Running Man, but I doubt that American Gladiators would be anything but PG. They are hoping to get the project off the ground and into theaters by 2011.
But will it be in 3D? While doing research for this article, I stumbled across 3ality Digital, a video production company which is listed as being part of this production. Funny thing is, 3ality Digital mostly works on 3D movies. U23D was their debut production. So could it be that they are hoping to shoot the film in 3D?
source: Variety