Mia Wasikowska And Michael Fassbender Joining Jane Eyre, From Sin Nombre Director Cary Fukunaga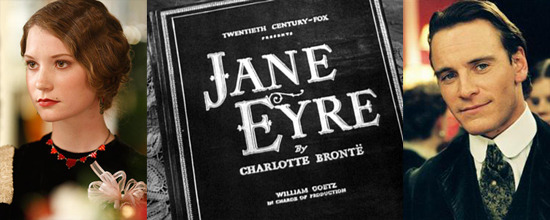 Oh, this is some good stuff. I was a little surprised recently when the announcement came down that Cary Fukunaga, who directed the very excellent Sin Nombre, would adapt Charlotte Bronte's classic novel Jane Eyre as his next film. But I liked Sin Nombre so much that I'll watch anything Fukunaga does at this point. Especially now that he's likely to have Mia Wasikowska and Michael Fassbender in the lead roles.
Variety reports that Wasikowska and Fassbender are in talks. Wasikowska is the lead in Tim Burton's Alice in Wonderland and, in general, is starting to seem like one of the more interesting young actresses out there right now. She's drawing a good balance between big moneymaking stuff (Alice) and more interesting films (this one, That Evening Sun and Gus Van Sant's new one). And Fassbender isn't doing too badly on his end, either. Inglourious Basterds was notable, yes, and he's got some fun and interesting stuff coming up too, like Jonah Hex and Birdsong, with Brian Cox and Paddy Considine. Interesting duo, these two, and I think they can knock it out of the park, especially working for Fukunaga.
Sadly, the trade casting break doesn't add anything new to our info bank about the film. It reiterates that Moira Buffini's script is said to retain a period setting and play up the gothic elements of the original novel. So I'm stuck where I was when I last wrote about the film, guessing that of all the major adaptations of Jane Eyre this could be most like the 1944 version with Joan Fontaine, Margaret O'Brien and Orson Welles. But that's just a guess, based on very little real info about the film. And with this trio of names (quartet, really, including Buffini) I don't need any more. I want to hear that this has really started rolling so I can begin looking forward to footage.