Movie Review: The Carter (New Documentary Redefines The Notion Of A Mainstream Pop Star)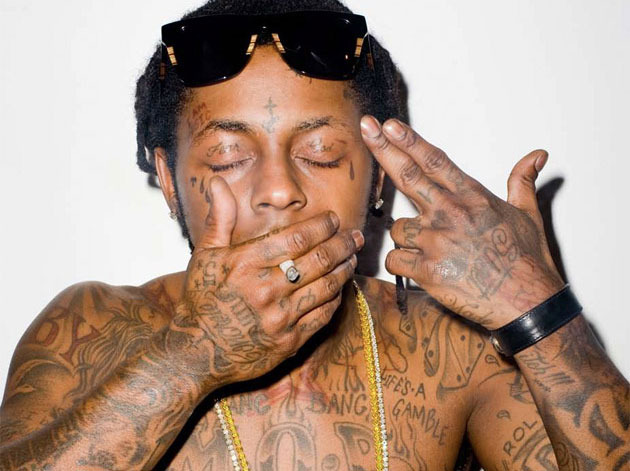 Wow. After watching The Carter, the new all-access documentary on Lil' Wayne, one might consider recommending it as the best doc about a hip hop icon ever. The problem with this superlative lies in its limitation. Similar to labeling Lil' Wayne a rapper—even "the best rapper alive" as many profess—and leaving it at that, labeling this a great hip hop doc restricts it to the confines of a niche or genre coated in personal taste and stigmas. That is to say The Carter is foremost a fascinating portrait of a remarkable, modern artist and celebrity who has cooked most if not all bridges for comparison.
In The Carter we experience the exact moment when Wayne calmly finds out, overseas and perma-high, that his latest album, Tha Carter III, has sold one million plus physical units in its first week. As his friend and manager, Cortez Bryant, tells the camera, Wayne now undisputedly ranks with the world's top pop stars; and this doc ranks with the best of the year. It's also highly difficult to cite precedent for a film so privy to a superstar's love of, and possible dependency on, drugs. Clearly, the recent, This Is It, failed in this regard.
Nevertheless, I find C***sucker Blues, the 1972 doc on the Rolling Stones, to be an apt cinematic comparison in terms of access to excess. Especially when comparing each doc's' stylistic preference of cinéma vérité for capturing a lavish lifestyle of touring, partying, and recording. More reason for comparison is that the release of Blues was infamously blocked by the Stones for decades. Lil' Wayne has similarly attempted to block The Carter to no avail. Though President Obama positively references Lil' Wayne in speeches, he currently faces a one-year jail sentence for a gun charge, and the film will only heighten that criminal rep. Minutes after the flick started—when I realized the sheer number of viewers who will watch this—I subconsciously began to rethink the meaning of "pop superstar" in regard to Weezy. I've been meaning to do this, but even following his interview on 60 Minutes, it required a harder push thanks to the manufactured, horrible-for-pop state of pop music.
Not only is Lil' Wayne an artist whose outlaw-sensibility has a global reach—as he proclaims here—this is a rapper who sees himself as the aughts' amalgamation of Kurt Cobain and Russell Crowe's true-life schizo in A Beautiful Mind; he is the only icon of gangster rap to share semblance with a voodoo child and poetically harbor a crush on Topanga from Boy Meets World.
Directed by Adam Bhala Lough—he previously helmed the Lee Scratch Perry doc The Upsetter and the indie Weapons with Paul Dano—The Carter follows Lil' Wayne on his travels in 2007 and 2008 bouncing around to Los Angeles, Amsterdam (for obvious reasons), various concerts and other locales, and on to Miami's famous The Hit Factory to record. Produced by QD3, a company founded by Quincy Jones III, son of the American producer legend, by way of sheer immediacy, The Carter surpasses James Toback's excellent doc on Mike Tyson (Tyson) from this year.
And both of these subjects share countless parallels: both are black men who grew up in lower income neighborhoods (in New York/New Orleans); both were involved in crime at a young age (troubled beginnings later parlayed into racially propagated, commercial-savvy images); both showed tremendous promise and talent in their teens and won awards (Junior Olympics/Album Sales) to foreshadow massive success; both had priceless, father-like mentors (Cus D'Amato/Baby) and money-hungry showmen (Don King/again, Baby); both have unique tattoos on their faces meant to incite intrigue and fear and both possess formidable physiques. I'll stop here, but there are certainly more profound connections. One big difference, though, is that Lil' Wayne has an incredible business acumen and surrounds himself with a Ziploc-tight team of confidants. The doc does a nice job at penetrating this inner circle, but it wasn't possible—and it's likely impossible—to explore the deeper end as a documentarian or journalist.
The Carter is illuminating because one senses that an artist with a lesser constitution would drop all cares for the outside world and forever hole up in hotels in a sizzurp-addled abyss. Wayne's support system is there to handle and welcome all facets except the recital of drug-induced rhymes. And there are times here when Wayne's behavior has an unlikeable psychotic edge, not to mention an involuntary twitch. Screened outside of time to someone who was completely unfamiliar, if Wayne collapsed on the floor and r.i.p.'d in this doc, it would seem an inevitable conclusion. When he's shown sleeping, the footage feels taboo, but it's also a relief. Like The Lost Boys, he does, in fact, sleep.
A genuine Reaper-shadowed tension surrounds Wayne in the footage that differs from similar, albeit posthumously released, footage of Tupac or Biggie; Wayne is utterly consumed with the act and idea of racing down a yellow brick road of output. It's impossible to tell if he's ever entertained the notion of peaking before age 30. Right now, he's 27, the infamous age attributed to rock's mythologized 27 Club, but what is reassuring and yeah, awesome, is that Wayne clearly sees bigger and bigger things ahead. Unlike so many artists and celebrities, the loneliness that exists at the top fuels him, and this is perhaps a sign of greatness.
He's trailblazing on camera, and that's partially what makes his life here reel out like impeccably scheduled chaos. We see Wayne experimenting on guitar (his rock album Rebirth is forthcoming) and on the drums, and singing the blues with a tortured croak. But rather than serve as a commercially-complicit gloss over, the camera views Wayne as an outsider and vice versa. This alien element is the key to the doc's success. Constantly, the film shows him setting up a mic in hotels, studios, and on the bus and unleashing the characteristic unwritten lyrics that at their best dip into aesthetic similarities between the brain and space. At times, the camera often seems invisible like a two-way mirror. This is not artistic grandstanding.
His wordplay is so spontaneous and eerily out-of-body in these scenes that it can feel as if he's lifted up the Giant Curtain, stood behind it, and returned. Stop. Record some more. "Repetition is the father of learning," he repeats in a haze, like a father sternly reprimanding all of the current children of rap outside his Young Money rap posse. Keep in mind, this is within minutes of Lil' Wayne informing a Young Money kid about the first time he had (oral) sex, an initiation he refers to proudly as "rape" (which it was, legally). Wanye implies that if the kid aspires to be as great—and he won't be—repeating his life is the only way to try.
Wayne refuses to discuss his own death on camera, and says of the inquiry, "that's stupid," behind thousand dollar sunglasses and a million dollar grill. And yet the most jarring, intimate footage in the doc as it pertains to his uncertain future is of Wayne's daughter, Reginea. Wayne had her at age 15 and she's shown here, a charming and happy school girl. Interviewed in her bedroom—followed by an effective juxtaposition of Wayne on tour—she proceeds to kick a rhyme about her dad that is inventive and killer. Whatever the f*** goes on in Lil' Wayne's mind, bookended by racing matrices of football scores and dollar signs, nobody knows. Maybe she does? Let's hope not (though the idea of a future duet with Frances Bean is enticing).
Photo used in this article by Terry Richardson. Note: The review's author personally made the editorial decision to include the apostrophe on Lil'.
Hunter Stephenson can be reached at h.attila/gmail and on twitter.