Sam Worthington Books Another One: Adaptation Of The Last Days Of American Crime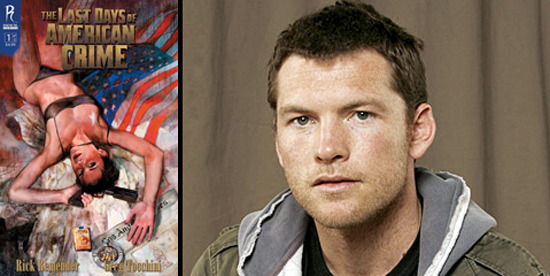 UPDATE: Comics2Film's scoop was on the money; this evening a press release came in announcing the project, and saying that Worthington was producing in addition to starring. Full release is at the bottom. Original article follows.
If you're making a big budget action or genre picture these days, one of the first names to attach seems to be Sam Worthington. That's what working with Cameron and being in a Terminator movie will do for a guy. And, despite the highly forgettable nature of Terminator: Salvation, I liked Worthington well enough in the film. Not as much as I enjoyed Anton Yelchin, but no big deal.
But I still have a 'wait and see' attitude for anything announced (or, in some cases, 'announced') with Worthington as a primary attachment. Tell me the guy may topline a heist film with sci-fi overtones, however, and I perk up really fast.
Mania's Comics2Film reports that Worthington has signed to appear in the cast of The Last Days of American Crime, an adaptation of the comic series of the same name. Creator Rick Remender gave the site the news, and describes his book as being informed by David Mamet and James Ellroy, but the basic plot description is highly suggestive of Philip K. Dick and the film version of Minority Report.
In a near-future America, news has broken that, in a matter of weeks, the government is set to roll out mind-control technology that will kill the criminal impulse in all citizens. Chaos descends on America's cities as the country braces for the new order. Career criminal Graham Brick is forced to accelerate the heist of his career with an untested new crew in order to beat the deadline.
One would expect that the heist and the government plan end up aligning in some manner, though I hope not. I like the idea that a criminal wouldn't give a shit about the mind control thing, so long as he knew he'd be rich before the button was pressed. I don't want to see a career robber working to save society from well-minded tyranny; I'd think that before that tech went into action that things would get generally crazy as people tried to live out their evil impulses all at once before they were taken away. So is there a nice chaotic backdrop for this heist? I hope so. But let's get some more legit word on this before getting too excited.
The press release:
November 19th, Los Angeles – Radical Publishing is excited to announce that Sam Worthington (Clash of the Titans and James Cameron's Avatar) has signed on as both star and producer for the film adaptation of The Last Days of American Crime, based off of Radical Publishing's comic book series, The Last Days of American Crime, created and written by critically acclaimed author Rick Remender (Punisher, Fear Agent). Sam Worthington will be a producer along with producing partner, Michael Schwarz, and Radical's president and publisher, Barry Levine. Rick Remender will be the executive producer/screenwriter for the film and Radical's Executive Vice President, Jesse Berger, will executive produce.
The Last Days of American Crime is set in the not-too-distant future, as a final response to terrorism and crime, the U.S. government plans in secret to broadcast a signal making it impossible for anyone to knowingly commit unlawful acts. To keep this from the public, the government creates a distraction, installing a new currency system using digital charge cards. Graham Bricke, a petty criminal never quite able to hit the big score, intends to steal one of the charging stations, skip the country and live off unlimited funds for the rest of his life. But the media has leaked news of the anti-crime signal one week before it was to go live... and now Graham and his team have just a few days to turn the heist of the century into the last crime in American history.
"I had met Sam's producing partner, Michael Schwarz, at the recent San Diego Comic-Con, who loved the concept for The Last Days of American Crime" said Radical Publishing's President and Publisher, Barry Levine. "I figured that since Sam had done three tentpole movies back-to-back with Terminator Salvation, Avatar and Clash of the Titans, that he would want the more character driven role of Kevin Cash, the sociopathic partner to Graham Bricke. Michael had set up a meeting between Sam, CAA agents Kimberly Hodgert and Jon Levin along with myself to discuss Last Days. During the two hour meeting, we hit it off and Sam had committed to both star and produce."
Rick Remender commented with "Sam is the perfect guy for this. He's a scene stealer, made up in equal parts charm and intelligence. Seeing him play violent sociopath safe cracker Kevin Cash will be a treat all the world will enjoy"
Readers can preview the first 15 pages of The Last Days of American Crime on Radical Publishing's MySpace page at http://www.myspace.com/radicalpublishing.