Cool Stuff: Rorschach Obama Parody T-Shirt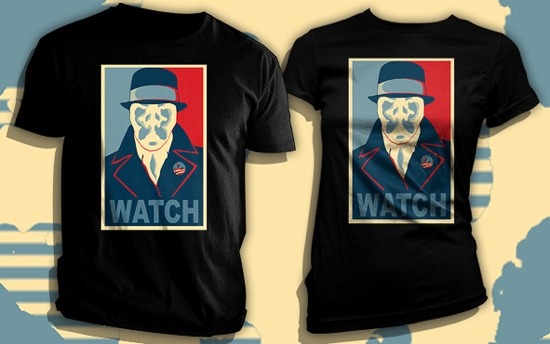 Today's t-shirt on the tee-a-day website TeeFury is a Watchmen parody takes the Rorschach character and gives him the Shepard Fairey treatment, capping it off with the single word "WATCH". The T-shirt will be available all day on Thursday, November 19th 2009 for only $9 plus shipping. But like all Teefury shirts, after the clock strikes midnight, the t-shirt will never be available again. Full t-shirt design image, and a word from the artist, after the jump.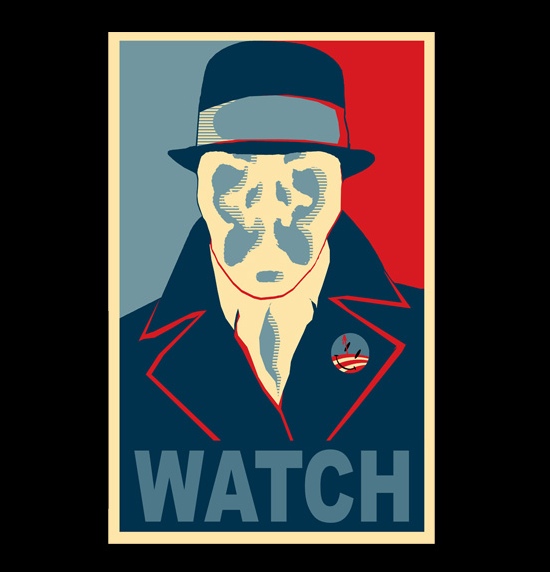 Artist FamousAfterDeath blogs about the design:
This design was created by using the stylized stencil technique made famous by Shepard Fairey's Obama "Hope" Poster. So after seeing James Lillis's "Joke" design, which parodied the "Hope" poster; I wanted to take on the challenge of creating a parody design for the first time. Like so many others, I was anxiously waiting for the watchmen movie to release and felt it was a perfect time to use Rorschach in my design.
Cool Stuff is a daily feature of slashfilm.com. Know of any geekarific creations or cool products which should be featured on Cool Stuff? E-Mail us at orfilms@gmail.com.