Cool Stuff: Darth Vader Wii Sensorbar Holder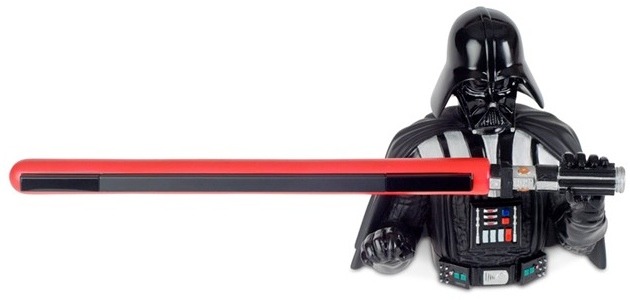 If you own an Nintendo Wii, then you have one of those ugly Wii sensor bars on top of your television. It kinda looks like the ugly cousin of the lightbar from the Kitt Knight Rider car. LucasFilm has officially licensed a Darth Vader figure which acts as a Wii SEnsorbar holder. The sensorbar is inserted into Vader's red lightsaber. You can read a press release after the jump.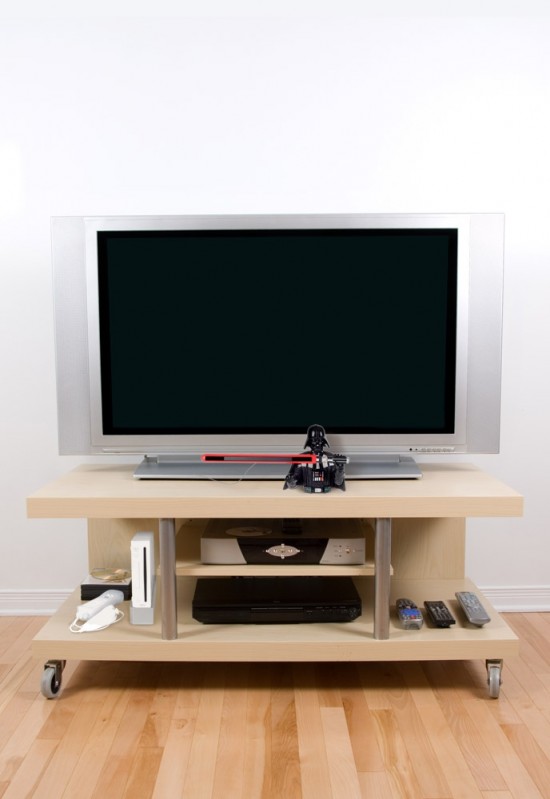 POWER A INTRODUCES OFFICIALLY LICENSED DARTH VADER™ Wii™ sensor bar holder
WOODINVILLE, Wash. – November 16, 2009 – Bensussen Deutsch & Associates, Inc. (BDA), a leading manufacturer of licensed retail consumer electronics accessories, has revealed the first and only Darth Vader Sensor Bar Holder for WiiTM. Licensed by both Nintendo and Lucasfilm Ltd. and marketed under BDA's POWER A brand, the Darth Vader Sensor Bar Holder seamlessly integrates style and utility, promising to be the focal point of any family or play room.
Specifically designed to work with the Wii™ first party sensor bar, the sculpture-quality Darth Vader figure safely supports the sensor bar while maintaining full range and performance. The detailed Darth Vader, made from high-density resin, accurately depicts the iconic character and his red-bladed lightsaber. With the sensor bar fitted into the lightsaber, fans will surely feel that Darth Vader is watching their every move. The Darth Vader Sensor Bar Holder is a must have for any player with a bit of the dark side in them.
The POWER A Darth Vader Sensor Bar Holder is available from select retailers, including Amazon.com and Toys 'R' Us, with an MSRP of $39.99.
Cool Stuff is a daily feature of slashfilm.com. Know of any geekarific creations or cool products which should be featured on Cool Stuff? E-Mail us at orfilms@gmail.com.