Leona Lewis To Sing Avatar's Theme Song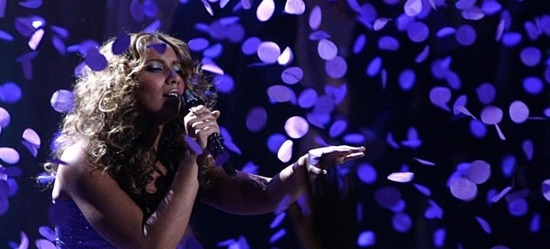 Atlantic Records has announced that they will be releasing the upcoming score for James Cameron's Avatar. While details are thin, the small press release on Atlantic's website reveals that Avatar: Music From The Motion Picture will feature "music composed and conducted by Academy Award®-winner James Horner (this we already knew...) and the film's title song, 'I See You', performed by multiple Grammy® Award-nominated singer Leona Lewis".
I had assumed that the whole score would be made up of tribal music, without main vocals, but it appears that 20th Century Fox is shooting for another best song Oscar nod, which seems like an obvious attempt to repeat on the success of Celine Dion's Titanic theme My Heart Will Go On. Lewis won the UK American Idol equivalent The X-Factor, and is probably best known in the states for the song "Bleeding Love".I am so out of the loop when it comes to pop music these days, so I had to do a google search to hear what Lewis sounds like. You can see a video of her singing Over The Rainbow from The X-Factor, embedded below.
The soundtrack will be released December 15th (December 14th internationally) and is currently available for pre-order at AvatarScore.com . Avatar hits theaters everywhere on December 18th.