Details Emerge On Wes Anderson's Script The Rosenthaler Suite; Anderson Teases Fantastic Mr Fox Spin-Off Comic Book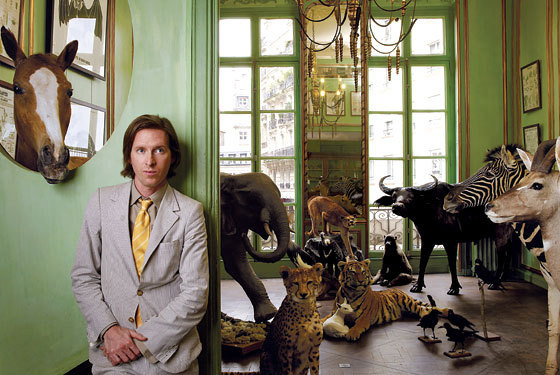 As members of the press have had a chance to talk to Wes Anderson thanks to the release of Fantastic Mr. Fox, I've had a few conversations with other web writers who noted that no one seemed to be asking Anderson about his adaptation of the French film My Best Friend. We first reported on the possibility of the remake in September of last year, but while Anderson worked on finishing his animated feature there was no real news on the project. Would it be his next? Has it been scrapped? In short, what's up?
We now know that the film hasn't been scrapped, at least, because there is a script draft. The title has been changed from My Best Friend to The Rosenthaler Suite, but otherwise it sounds like a relatively faithful reworking. More details, and a tease about White Cape, a possible Fantastic Mr. Fox spin-off comic, after the break.
The Playlist got a copy of the script and runs down some of the differences between it and the original film. The French My Best Friend is a comic meditation on the nature of friendship. It follows François (Daniel Auteuil), an arrogant and unpleasant antique dealer who was challenged by his business partner, Catherine (Julie Gayet), to produce his best friend (not believing that he had one). If he succeeds, he will be able to retain possession of a valuable Greek vase he purchased using company money. François sets out to look for a best friend and finds Bruno (Dany Boon), a gregarious cabbie, who will hopefully help him win the bet.
In Anderson's version, transplanted to New York, the primary character is Nicolas, an art dealer. The plot is kicked into motion by rival art dealer Lucinda, and Bruno becomes a Polish cab driver named Zbigniew. (The Playlist notes that George Clooney seems like a lock for Nicolas, that Angelica Huston or Meryl Streep would be ideal Lucindas, and that Adrien Brody could be Zbigniew. For the latter, I'm envisioning Eugene Hutz, were it not for his similar role in Everything is Illuminated.)
Rather than a vase, the object of Nicolas' material affections is a collection of paintings by Moses Rosenthaler. Hence the title of the film. Rosenthaler is still alive and Nicolas wants to corner the market on his work in anticipation of a value jump after the old guy kicks it. So that adds another wrinkle to the tale of an arrogant, mean-spirited guy. And while the story as it stands in the original film is decidedly free of the daddy issues that are common to Anderson's films, I wonder if Rosenthaler might become more of a father figure in subsequent drafts of this version.
So is this Anderson's next directorial effort? Doesn't seem like it, as he recently said that he was doing something all his own. But this is something that could recur afterward, or it could be handed off to another director. (The Playlist suggests Roman Coppola, which is a note I heartily endorse. I liked enough of CQ, his Barbarella/Danger:Diabolik/Coppola Family remix, that I'd quite like to see another feature from Roman.)
And what about that spin-off comic? There's a brief moment in Fantastic Mr. Fox where you see the younger Fox, voiced by Jason Schwarzman, reading a comic book called White Cape. That's justification for the outfit the character wears in the film, but Anderson and his storyboard artist Christian De Vita (not, oddly, Anderson's artist brother Eric) actually designed quite a bit of the comic, which is never seen in detail during the film.
So reports MTV, which quotes Anderson as such: "We didn't ever figure out any full stories, but in fact [De Vita] wants to do some 'White Cape' comics now. So maybe we will be developing that property."