Leaves Of Grass Movie Trailer (Pot Thriller Comedy With Ed Norton As Twins)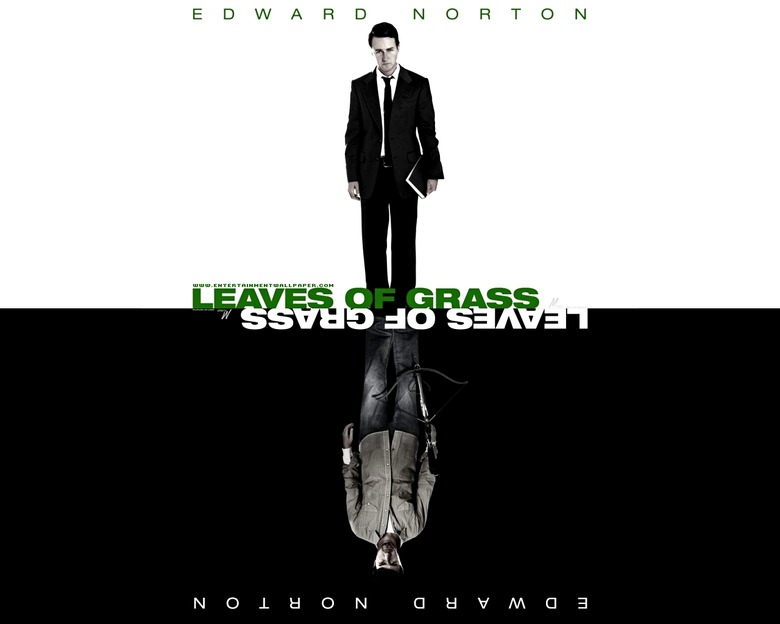 We were beginning to wonder if Leaves of Grass, a pot comedy thriller starring Edward Norton in the role(s) of identical twins, had hit a buzz or release snag. Or worse: try to recall the actor's Pride and Glory from last year. But judging by this new, rapid-clip trailer, complete with Norton pronouncing "crystal meth" in a thick country accent, Leaves might have yielded a nice return on a visual gag so infamously exploited by Van Damme actioners. Add in wretched black light posters, scenes with Susan Sarandon as the twins' knowing mom, and Richard Dreyfuss channeling Nic Cage's iguana rage, and it's worth a laugh.
Here is the official plot synopsis, which we posted last summer. At first I was inclined to add a spoiler warning, but nothing is revealed herein that is not evident in the trailer: "Edward Norton is Bill Kincaid, an Ivy League classics professor, who returns to rural Oklahoma to bury his dangerously brilliant identical twin brother, only to discover that the brother he believes to have been murdered has lured him home to involve him in a doomed plot against a local drug lord (Dreyfuss).  Before Bill can flee, he's implicated in a murder, and his life has become completely unraveled..."
The film is written and directed by Tim Blake Nelson, who appears in the truck with Norton at the end of the trailer. If you recognized his face, Nelson has acted in a fair amount of films including Syriana, Fido, and Wonderland. He also previously helmed 2001's O, a modern update of Othello belonging to that long-passed crap-cycle of Shakespeare adaptations high on "MTV street cred." I'm not holding the film against him though, especially after reading the uncharacteristically enthusiastic review of Leaves on The Playlist (seemingly one of the few sites to catch this at the Toronto International Film Festival). They go on to call Leaves "very brilliant," "incredibly well-written," and "anything but a fun, simple stoner comedy." Also co-starring are Keri Russell, and Melanie Lynskey, who remains best known for "Rose" the "insane stalker" on Two and a Half Men, but received kudos for her roles this year in Up in the Air and The Informant! Anything to escape that show's obscenely rich kid.
More than two years ago, Norton was reluctant to read Nelson's script, but he later professed to the trades:  "I liked it so much, and felt so strongly that it was a film Tim understood to his core, that I took it to my partners and suggested we produce it. This is exactly the kind of personal filmmaking that we set out to support." One can sense how much he digs the material just from the footage seen here. If a film didn't gel or challenge him, the reverse vibe is usually immediate (and there are usually articles in the press to support it).
No offense to fans who wish to see Norton in The Avengers—actually, who cares?—but I'd much rather see him, yeah, create original material that lasts long after the CGI is moaned over. All of the drama on The Incredible Hulk likely sapped a few great performances from his filmography, and with many critics citing The 25th Hour as one of the decade's best films—and it's easily one of the best 50—that's a damn shame. Another Norton film that we've heard surprisingly little about is his reunion with Robert De Niro as a plotting convict in Stone: promo trailer here.
For some reason, Leaves of Grass is without distribution stateside, but a release is listed on IMDB for December 25th.Odd. Let us know what you think of Norton as a mischievous stoner and a worried square in the comments.